Support the final push to secure camp's water storage future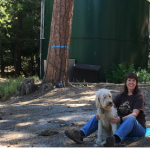 Janet and Daisy are sitting on the site of the future new water tank. Behind them is our 55 year-old tank that is just not cutting it in 2017. It's not big enough. It's not up to earthquake standards. And it's not even accessible for firefighting, which has proven a problem.
The year before, as firefighters raced to fight the Lake Fire, they couldn't tap water from our tank. Even though the fire began just a few hundred feet away, they had to pump water from a hydrant down the hill in camp. Even then, there was so little water to pump that they had to fly water by helicopter from Jenks Lake. What a tragedy: 30,000 acres of pristine wilderness was destroyed so quickly.
Our new tank will be accessible. It will be earthquake proof. And it will provide more water. And "old faithful" (the green tank) will continue to serve as a backup tank, giving us even more water to keep camp running and keep camp safe.
More than 160 donors from 20 UU congregations, have already stepped up to help secure our water storage future and we are pretty close. Now we need you to help finish the job.
And right now, generous donors from First UU Church of San Diego are matching every donation you make.
Help us can complete our work so we can get a new tank in before snowfall.
Donate today. Your contribution is tax deductible and every penny will be matched.