Friday, April 20 — Sunday, Aprill 22, 2018
(with additional optional Thursday evening, April 19th)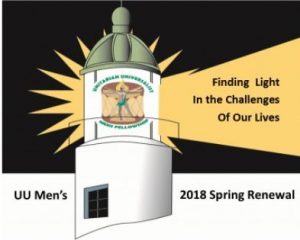 What are the challenges that limit us from enjoying fulfilling lives? Where do we look for the answers to what holds us back? What options are available to make a change? in a SAFE and SUPPORTIVE place, we can begin to unpack these issues, support each other and celebrate new insights about our journeys.
There will also be time to have fellowship with other brothers, make music, celebrate rituals and enjoy the natural beauty of the mountains and forests surrounding Camp de Benneville Pines.
Registration fee: $175, includes room and board and participation in all activities
UUMF Membership: $25 (San Diego County only)
Optional Thursday evening arrival: additional $25
It is our policy that no brother be denied for financial hardship. For scholarship or more information contact either Mike Dorfi's email at mdorfi@cox.net or (619) 466-5952 or John Holl's email at johnholl@cox.net or (619) 546-6525.