Healing Body, Mind & Spirit Through Yoga
Friday, September 7 — Sunday, September 9, 2018
Deans: Lisa Harris and Kathy Bolte
OUR APOLOGIES, THIS RETREAT IS FULL! IF YOU SIGN UP YOU WILL BE PLACED ON OUR WAITING LIST.
Yoga Retreat 2018 will hold space for our campers to heal their bodies, free their minds and awaken their joyful spirits.
Deans Lisa and Kathy have recruited teachers who are skilled and passionate about creating healing moments through the practice of yoga and movement. The classes are sure to inspire students to move, stretch, grow and heal.
Whether participating in a physical yoga or movement class, making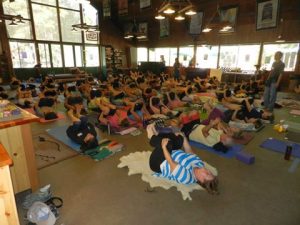 therapeutic art, listening or singing along to devotional music, enjoying the healing spirit of the pines or contemplating the wisdom philosophies of our teachers offer, your body, mind and spirit will be awakened to its own healing abilities.
All skill levels from beginners to advanced yoga practitioners are welcome! Sign up early to assure your place in this weekend of yoga healing.
Come explore healing the body, mind and spirit through yoga!
Move well and be well.
Click here to learn more about the Camp Deans' Kathy Bolte and Lisa Harris.
Price includes food, lodging, classes and activities
$199 per person special discount if registered by July 30, 2018
$225 per person standard rate effective August 1, 2018
OUR APOLOGIES, THIS RETREAT IS FULL! IF YOU SIGN UP YOU WILL BE PLACED ON OUR WAITING LIST.
Upgrades: Craig's Cabin is SOLD OUT! An additional $30 per person for  Cabin 6 UPPER BUNKS ONLY (all lower bunks are SOLD OUT!)
LOWER BUNKS ARE SOLD OUT!!! WE ONLY HAVE UPPER BUNKS AVAILABLE!
Thursday Arrival: An additional $20 per person to arrive Thursday afternoon. Lodging only, bring picnic food!
A non-refundable $75 deposit is required at registration. All fees must be paid by no later than August 31, 2018 and no refunds will be given once camp has started.
Additional fees apply for massage, acupuncture and individual instruction.
Register now to be at the top of the Waiting List!