Sunday, August 6 – Thursday, August 10, 2017
Choir Camp Facilitator, Scott Rowe
Guest Choir Director, Rev. Ian W. Riddell
"I see songs as armor when you need it. And I see songs as a blessing," writes Dr. Ysaye M. Barnwell. Singing together can bring joy and solace, encouragement and enlightenment. At choir camp this year, we'll sing songs of hope and connection from many traditions – including canons, hymns, protest songs, and Taize chants. Come and be inspired by the beauty of de Benneville and the power of our collective voices.
This sum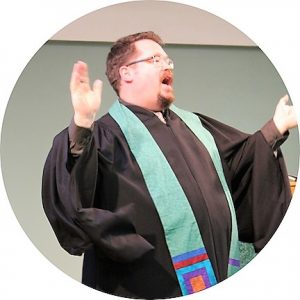 mer's guest choir director is the Rev. Ian W. Riddell who serves as the Minister of Music and Worship Arts at the First Unitarian Universalist Church of San Diego.  Before he and his husband moved to San Diego in 2015, Rev. Ian served our Las Vegas congregation as Developmental Minister for three years. A graduate of Meadville Lombard Theological School and the University of Toronto Faculty of Music, Rev. Ian previously served as Director of Music Ministry in congregations in Madison, Wisconsin, and State College, Pennsylvania, taught music in elementary schools in Victoria, BC, and conducted Perfect Harmony Men's Chorus in Madison and the      Musaic LGBT Choir in Victoria.
Choir camp facilitator Scott Rowe began playing music around the time he could sit up straight, playing the bongos while his mother played piano.  He went on to write music for the hit television show Rescue 911, and helped with the production of music for the top ranked television show C.S.I.  Scott was a recording artist signed to Geffen records with the band Wild Colonials.  His mother also took him to Sunday school at the UU church in Wilmington, Delaware, and now he works as music director at the UU Church in Santa Clarita.  He brings his passion for music, people, and community to Singing in the Pines by helping to organize the event, singing with the choir, playing various instruments, and leading salsa dancing classes!
If you yearn to connect with others through music, if your heart is open to learning new music, if you want to commune with others for 5 days at camp, then come add your voice to "Singing in the Pines".  Enjoy morning keynote speaker, swimming, hike to the lake, salsa dancing, R & R, good food and friend…..and lots of singing!
PRICING
Base price :  $480 per person  (Save $30 and register by July 31, 2017)
Double bottom bed in Craig's Cabin:  $60 per person upgrade fee
Twin upper bed in Craig's Cabin:  $50 per person upgrade fee
Twin bottom bed in Cabin #6: $40 per person upgrade fee
Double bed in Cabins 5, 7, 8:  $40 per person upgrade fee **
** Double beds are reserved for couples and then assigned to others as requested.
Register!