The Many Faces of Yoga
Friday, September 8 – Sunday, September 10, 2017
Deans:  Lisa Harris and Kathy Bolte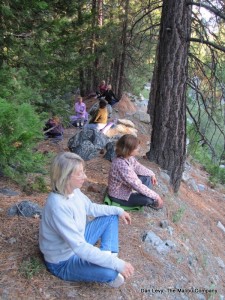 When most people think of yoga, they call to mind images of "bendy" people doing "pretzel" poses.  But that is only one small expression of yoga.  There are many ways for people to practice yoga: breath practices, meditation practices, sound practices, health practices, mindfulness practices, and yes, the physical poses.  These are all beautiful expressions of yoga, or the "union" of mind, body and spirit.
All skill levels from beginners to advanced yoga practitioners welcome!  Sign up early to assure your place in this weekend of yoga expressions.  Join Lisa and Kathy along with all of the wonderful teachers they have gathered for Yoga Camp 2017.
 Come explore The Many Faces of Yoga!
Price includes food, lodging, classes and activities
$195 per person if registered by July 30
$220 per person standard rate thereafter
Upgrades:  + $30 per person for Craig's Cabin and Cabin 6
Thursday arrival:  + $20 per person (lodging only, bring picnic food.  First meal is dinner on Friday)
(Additional fees apply for massage, acupuncture and individual instruction)