Rainbow Family Camp #2
Youth Retreat
Friday, May 18 — Sunday, May 20, 2018
Youth Dean: Benson Troccoli
Parent Coordinator: Tom Troccoli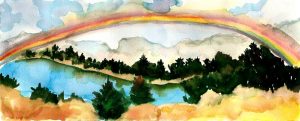 GBLTQ youth and allies ages 14 – 18, who are presently attending senior high school, are invited to come enjoy a weekend with other like-minded and like-spirited teens. Rainbow Family Camp at Camp de Benneville Pines is a safe place where you are free to be yourself in a camp environment. We have space for 16 youths, so space is limited.
Enjoy hiking, game playing, raps, crafts and all that camp has to offer. Sign up to lead an event with the teen group or with the younger kids and gain valuable leadership skills.
Rainbow Family Camp is sponsored by Camp de Benneville Pines, and parent permission forms will be required. A Camper Packet containing all sorts of useful information, including what to bring and directions, will be sent via email 10 days before camp begins. The youth cabin will be chaperoned by two awesome adults/parents.
Don't miss out on the fun! Camp de Benneville Pines is located in Barton Flats at 6800′ elevation. Just a 40 minute drive from Mentone!
Pricing for this Youth Retreat is $118 which includes food, lodging and program activities. Bring clothing, sleeping bag, pillow and a great attitude!
For information about the camp, contact Janet James, Camp Manager at 909-435-6298 or email at director@uucamp.org.
To volunteer to be a program leader or for other program information, contact Benson Trocolli, Youth Dean, at bensontroccoli@gmail.com.
Please direct any housing or cabin questions to Laura Chamberlin at registrar@uucamp.org.
Register!