"Once Upon a Time…"
Sunday, July 30 – Saturday, August 5
Deans: Rev. Matthew Funke Crary & Stephanie Funke Crary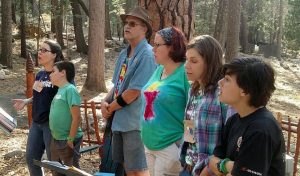 Once upon a time, at Camp de Benneville Pines, there was a Unitarian Universalist Summer Family Camp filled with beloved fables, fictions, personal narratives, and chronicles of adventure.
Join us for a celebration of story-sharing with creative activities, events, and workshops for all ages. Families will grow closer through the power of the stories they share and a tapestry of tales from friends old and new.
Of course, there will be your favorite family-centered camp activities: swimming, hiking, paddling at Jenks Lake, crafting, singing, dancing, and more! Take the time to relax, play a game, explore, and worship under the pines. Laugh, learn, love, and then take home some new stories to cherish.
"After nourishment, shelter and companionship, stories are the thing we need most in the world."
– Philip Pullman
PRICING
Adults   (Ages 19 and up)       $395
Teens    (Ages 13/18)                365
Youth    (Ages 6/12)                  345
Child     (Ages 3/5)                    345
Toddler (Age 0/2)………………….0
A limited number of upgrades are available.  Cabin 6, $60 per adult, Double bedrooms, $25 per person.Submit registration with a  $75 non-refundable deposit, full balance due one week before start of camp. No refunds after check-in.
Register!