Help maintain our beautiful retreat center
SPRING WORK CAMP
 Thursday, April 13 - Saturday, April 15, 2017
  (Easter Sunday is April 16)
FALL WORK CAMP
  Monday, November 6 - Wednesday, November 8, 2017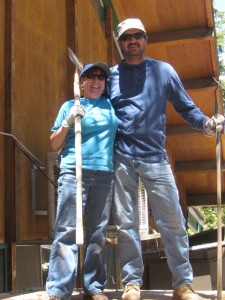 There has always been a volunteer spirit at Camp de Benneville Pines, and that can-do attitude is what keeps our camp in such good repair.  The pride people take in a job well done is what makes our volunteers outstanding.  Whether painting a cabin, performing fire clearance measures, repairing pool furniture or staining the decks, volunteers from all over the district come to camp for a few days to get a little workout and enjoy the great outdoors. 
Each year the camp hosts two work camps, and we invite anyone age 11 or older to join in the experience.  Rake leaves, clean rain gutters or split wood.  Your help is needed and appreciated each and every spring and fall.  Delicious food and comfortable accommodations are provided in exchange for the sweat of your brow! 
Camp de Benneville Pines was built by the loving hands of thousands of district volunteers, and the tradition lives on with those who choose to take care of the camp in many helpful ways.  We have room for 50 energetic souls, and hope you will join with us in community and comradery for "cleaning out the closets and spiffing up the place!"