Sunday, July 9 – Saturday, July 15, 2017
CIT  Trainers:  Mary Carter-Vail and Melinda Merkel Iyer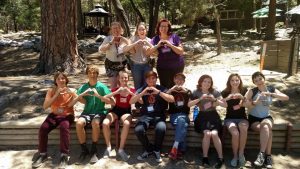 Do you want to share your amazing Camp de Benneville Pines experience with the next generation of campers? Ready for a summer of hard work and serious responsibility, mixed with outrageous fun and friendship? Then you can train to be a counselor with the CIT program.
Jump in! A week of intensive learning lets you discover camp behind the scenes. We'll explore individual leadership styles, build skills for working with children, and learn to lead age-appropriate workshops and games. We'll practice emergency situations, conflict management strategies, and teach you how to be an all-round, top-notch counselor.
CITs build a deeper connection to camp and to each other. The group plays a vital role in the joy and growth of the Elementary Camp community. Training takes place during the mornings. Then in the afternoons, CITs gain practical experience by assisting cabin counselors and program staff with campers and programs.
Space is limited to eight selected participants, with the goal that all eight CITs will complete the program and be recommended to serve as a counselor for future camps – though this is not guaranteed. Applicants should be willing to commit to serving the Camp de Benneville Pines counseling program for several years after completing the CIT program. Applicants must be 15 to 18 years old. A formal CIT application will be sent upon receipt of deposit and registration; applications, including letters of recommendation, must be received by May 20, 2017. Final notification of acceptance will be made by June 3, 2017.
Cost: $425 (no discounts available for this program)
Register!
Packet