Sunday, July 8 – Saturday, July 14, 2018
CIT Facilitators: Mary Carter-Vail & Melinda Merkel Iyer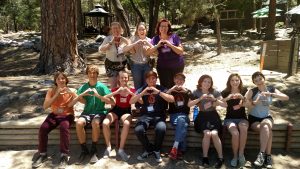 Camp de Benneville Pines is searching for its next generation of leaders!
A residential camp experience designed to provide leadership opportunities that prepare teens to become successful staff members at camp, as well as develop skills that will help them in life! CIT's focus on activities that develop leadership and teamwork skills. The CIT program includes:
internship in all aspects of a counselor's job
participation in camp programming
training sessions on such topics as:

basic child development and behavior management
counseling techniques and best practices
communication and leadership, environmental stewardship
social justice development in the camp community
Living in their own CIT community, trainees study and practice skill enhancement in the morning hours, and assist counselors with campers in the afternoon. The CIT program is just the right mix of hard work and serious responsibility with outrageous fun and friendship building with fellow CITs.
Camp de Benneville Pines is searching for its next generation of leaders!  And it just may be YOU or someone you know! Successful participants will come away from their training with an invaluable skill base that will serve them well at home, in school, and in their own community. Applicants must be 15 – 18 years of age.
Cost: $425 (no discounts available for this program)
The application deadline has been extended. All forms MUST be submitted by May 30th at 12:00 PM PT. Eligibility will be forfeited if forms are not completed or submitted by the deadline. Notification of whether an application has been accepted into the CIT program will be made by June 15th.
If all three components of the application materials are completed and submitted before the deadline, notification will be made about 2 weeks after it is submitted. So register and submit an application NOW! Come be a part of our CIT program this summer!
For general information, contact Janet James, Executive Director, director@uucamp.org or call (909) 435-6298.
For information on CIT Program, contact Geoff Anderla, Camping Ministries Director, pswdcmd@gmail.com or call (623) 252-5619.
For information on registration, contact Laura Chamberlin, Registrar, registrar@uucamp.org or call (909) 794-1252.
Registration is open! Sign up now!
Register          CIT Application          Recommend-ation Form          Camper Packet