"A Walk in the Woods"
Saturday, February 17 – Monday, February 19, 2018
Deans: Bill and Shannon Stoker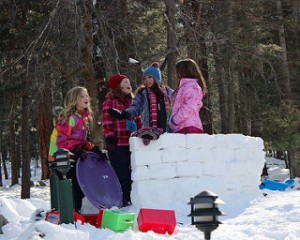 Registration is open!
Do you prefer a quiet, contemplative stroll in the trees, or a more boisterous exploration of the natural winter world?  Both adventures await you at Camp de Benneville Pines. Join us for the President's holiday weekend for snow play, indoor games, crafts, and kid-focused worship. Take some time to experience the beauty of the winter forest all  fights,  fort  building  and  "snowpeople" making are on top of the schedule of fun. And if we happen to have a winter camp without any snow, well then, we just turn our attention to other outdoor delights like hiking, capture the flag, and scavenger hunts. We will take full advantage of all that nature has to offer—no matter the weather!
This wonderful weekend of winter camp has been designed for kids in elementary school. Campers in grades 2-6 can come to camp on their own and stay in cabins with trained counselors. Children may also attend with their families and stay  with  parents  in  the  family  cabins.  Younger  children (grades K—1) must stay in family cabins and be accompanied by parents at all times.
PRICING
Camper Child ages 0/2      free
Camper Child ages 3 years to Pre Kindergarten  $85
Camper Child Kindergarten through Grade 6  $145
Adult Camper $145
Staff Accompanying Child $85
For information on the Camp, please contact Janet James:  director@uucamp.org
For information on Camp Programming, please contact Geoff Anderla: pswdcmd@gmail.com
To reach the camp: (909) 794-2928 (office) (909) 435-6298 (Camp Manager Cell)
Register