Camp #LoveYourSelfie
Friday, November 17 – Sunday, November 19, 2017
Camp de Benneville Pines
Dean:  Morgan Riddle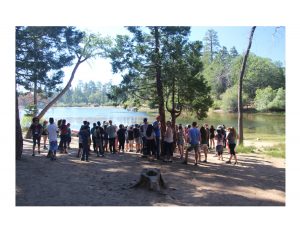 There's no place like camp, where we can be our true selves!    Junior high and middle school campers from throughout the PSWD unite!  Come together for an incredible weekend designed just for YOU!  Join your favorite counselors and program team for a beautiful fall retreat at Camp de Benneville Pines!
At Camp #LoveYourSelfie we will celebrate ourselves as we examine what makes each one of us special.  Let's rejoice in the "great" inside of all of us, as we continue to build our camp community. We will explore ways in which we fit into the interdependent web of life, and we will learn to take our best selves out into the world.
Over the weekend we will celebrate the diversity among us through self-exploration, community building, worship and the arts.  We will have the chance to express ourselves through arts & crafts, theatre, music and so much more!  All the fun camp stuff will happen too–like ice cream social, smore's, and talent show….so come prepared for a great time at camp…….come show us who you are!  And always #LoveYourSelfie!
Pricing: YoUUth (Currently in Grades 6-8) $155
(includes lodging, food, program)
Some beds have been set aside for long distance drivers coming  3+ hours away.  Enjoy a weekend at camp separately from the youth.  Food and lodging fees apply, but we hope this makes the trip to camp possible.  See registration page for details and pricing.
For information on camp programming, please contact Geoff Anderla, Camping Ministries Director, pswdcmd@gmail.com.   For all other questions, please contact Janet James, Camp Manager, director@uucamp.org.
Register!
Packet