Camp IngenUUity
A senior high camp winter experience!
December 27, 2017 – January 1, 2018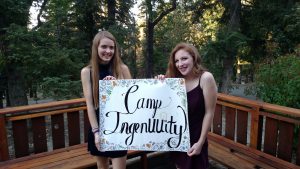 Youth Deans:  Carolyn Knapp & Erin Swift
Adult Deans:  Sequoia Prindle & Riley Brazell
Come join youth from around the district for a creative winter week at Camp de Benneville Pines!
At Camp IngenUUity, campers will have the opportunity to enjoy a week of individual, creative exploration; and will discover how creativity can lead to self-empowerment.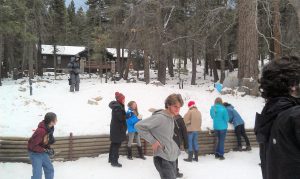 Throughout the week we will be delving into what creativity means to each of us and explore the myriad ways and forms of self expression.  Our goal is to give each camper a voice to express themselves through creative means, thereby fostering a more inclusive and inspiring camp community. Each day of the week will focus on a different form of creative expression: such as fine arts, performing arts, or writing.  Campers will explore these various mediums at workshops, worship, and other fun-filled programs.
We believe that everyone has a creative power and creative self, whether or not one possesses artistic abilities! We want to help campers discover how they can use creative means to better themselves, their community, and the world around them.
The week promises to have all the usual camp activities–including good food and wonderful friendships–in an incredible winter setting.
Together, let's explore our creative capabilities and discover how we can use those powers to drive change in our community of Unitarian Universalist Youth and in the world.
We hope to see you there!  Don't delay in getting registered.  We expect this camp to sell out.
Cost:  $495 per person.  Includes lodging, food and programming.
When paying on line, you must make a non-refundable credit card deposit of at least $75 per child.
If you are planning to come to camp, please download the Camper Information Packet by clicking on the link below. You will notice there are three health information forms contained in the packet. You need to fill out only one of these and bring it to camp, or send it with your youth camper, if he or she will be attending unaccompanied by a parent or guardian.
If your child will be attending Camp unaccompanied by an adult, fill out the "Health History Form and Authorization to Treat for children attending Camp de Benneville Pines"
If you are attending as an adult staff person unaccompanied by children, fill out the "Emergency Information Form – Adults at Camp de Benneville Pines".
If you are attending as a family or as a staff person accompanied by other family members, fill out the "Emergency Information Form – for Families attending Camp de Benneville Pines".
No one will be allowed to stay at camp without providing our registrar with a completed Health Emergency Form prior to camp attendance.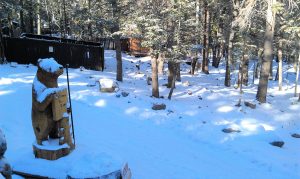 Due to icy road conditions, we do not allow campers to drive themselves to winter camp.  Chains  and/or 4-wheel drive are required in winter mountain roads.  Parents, please plan ahead.
For information on the camp facilities, please contact
For information on the camp program, please contact
To reach the camp:  909-435-6298 cell    909-794-2928 office
Register!