"RevolUUtion"
Sunday, July 22 – Saturday, July 28, 2018
Youth Deans: Grace Engleman & Elliot Crary
Adult Deans: Sequoia Prindle & Riley Brazell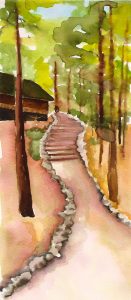 Come join us this summer in a social justice RevolUUtion! Youth will spend a week playing games, laughing with friends, and learning how to make a difference. Camp de Benneville Pines is an open and welcoming community that affords campers the opportunity to make lifelong connections. Its location in the San Bernardino Mountains makes it the perfect place to get away from the busy city to meet in community and with purpose in a secluded setting.
During camp, youth will have the opportunity to attend workshops such as Archery, Hiking, Swimming, Tie dyeing, Kayaking & Canoeing. They can participate in group events like our own Summer Olympics and leadership opportunities like Spirituality Training.
Revolutions have been integral in creating change throughout history, both good and bad; and Unitarians, Universalists, and UU's have often been at the forefront of that change. Through workshops, activities, and worship, youth will explore how revolutions have affected the past, what they look like today, and how they may be impactful in the future.
Today's youth, are the next generation of leaders. At "Camp RevolUUtion" each youth will be empowered to find a cause and get behind it. Every camper will be inspired by ideas and provided support to set real action into motion upon returning from the mountain. We hope every camper will walk away with the desire to make change, a plan for action, and the means to fight for justice. Come to camp for a revolutionary experience that won't be found anywhere else.
This camp is for campers completing grades 9th – 12th.
Cost: $595
Early Bird Discount: $75 off if registered by May 15th, 2018
Submit registration with a  $75 non-refundable deposit, full balance due one week before start of camp. No refunds after check-in.
For general information, contact Janet James, Executive Director, director@uucamp.org or call (909) 435-6298.
For information on Senior High Summer Camp 2018, contact Geoff Anderla, Camping Ministries Director, pswdcmd@gmail.com or call (623) 252-5619.
For information on registration, contact Laura Chamberlin, Registrar, registrar@uucamp.org or call (909) 794-1252.
Registration is CLOSED! Anyone registering after April 10, 2018 will be placed on the Waiting List. We will contract new registrants on a "first come, first served" basis about space availability.
Register          Scholarship Application          Youth Staff Application          Brochure          Camper Packet