"Camp JUUstice League"
Sunday, July 23 – Saturday, July 29, 2017
 Youth Deans:  Devon Swafford & Lucas Weed
Adult Deans:  Lauren Worley & Riley Brazell
Today's world seems to be filled with injustice, and it can be hard to fight alone. That's why we are calling YOU to help form a JUUstice League! This summer, flash up to Camp de Benneville Pines for a week of adventure and fun. The power of unity and our UU values can confront the forces of evil!
Remember, every superhero squad needs a headquarters, and ours is the lovely Camp de Benneville Pines. Senior High Summer Camp will use the teachings of seven superheroes to convey our core principals. We'll delve into what makes each and every one of us "super," then reflect each day on what heroes believe in.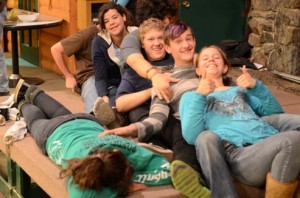 Come, explore ideas like self-actualization and equality through activities designed to be both fun and meaningful. These include nature challenges with Batman and Superman, Pool-ympics with Aquaman, harnessing the power of will with the Green Lantern, and fighting for women's rights with Wonder Woman. Senior High camp offers all the classic de Benneville experiences: hiking, archery, a service project, night crossing, raps, arts and crafts, dancing, singing, and much more. Don't miss out!
In brightest day and blackest night our camp will stand against the injustice in our world. So join a community as welcoming as it is powerful, and awaken the hero within yourself.
This camp is for campers completing grades 9th–12th
 Summer YoUUth CAMPS 2017
Cost: $595
($515 if registered by May 31, 2017)
($495 if registered by April 15, 2017)
Submit registration with a  $75 non-refundable deposit, full balance due one week before start of camp. No refunds after check-in.
Register!
Scholarship Application
Camper Profile
Packet