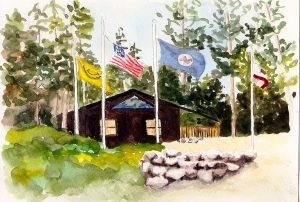 Since its creation 56 years ago, Camp de Benneville Pines has welcomed thousands of "happy campers" to its cabin doors.  If you have been to camp recently, then you know that the camp has developed into a unique and well cared for retreat center.   And because of camp, people thrive.  They fill their lungs with clean air, take in nature, attend meaningful workshops, and commune with friends.  We are happy that so many campers are doing well and "thriving" because of camp.  But, in order for camp to thrive, we have to take care of aging infrastructure.  It is a never ending job, and it is often a trick to get all the work done, as the facilities are in weekly use by many groups.
On Janet's wish list for this year are items that add up to well over $160,000.  We have raised $100,000 to date, but need your help to continue the fundraising effort.   Your generous contribution to the annual campaign means that camp leadership can soon look beyond maintenance and upkeep  issues, and start to plan for future growth as well.  With the help of our newly appointed Director of Philanthropy, Jacki Weber, we will soon have a comprehensive plan in place for future development of the physical site.  And within 5 years, many new and exciting projects will take place at camp.
As for now, Janet just wants to get her wish list finished up in spring of 2017.  If you would like to help to pay for new lodge doors, remodeling of the lodge bathrooms, a new roof on cabin 6 or Craig's Cabin, painting the surface of the swimming pool, a new-used Bobcat tractor for snow removal, repairing and topping the asphalt roads, or new mattresses for the camper cabins, then please DONATE NOW! to our annual campaign….and you will make Janet one happy camp director!
And did you know that a portion of the money raised will go to support the Craig Block Memorial Scholarship Fund?  Yes, your dollars will help youth campers get to camp this summer!  So, please support our annual campaign generously.
Thank you for you continued support,
Glenn Noreen
Board President