Friday, August 14 – Wednesday, August 19, 2020

Dean: Betsy Gilpin
This art camp for adults is special. Everyone is supportive of the participants' efforts and the result is a week of growth in skill and confidence. Throughout the 6-day camp, art pieces will be shared in a spirit of learning and skill development. The camp concludes with an art show on the final morning.  Participants will "jury" each other's pieces in a spirit of appreciation.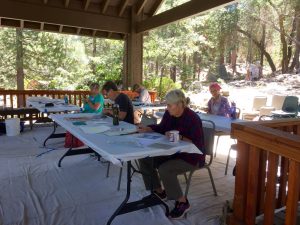 Mornings are for major concentration on a medium selected at the time of registration. Skilled instructors build on their presentations over the week.   In 2020 the areas of concentration will be:
1) Life Drawing with Jean Krumbein,
2) The Art of Photography – Photoshop and More with Abbey Chamberlain,
3) Composition and Design Made Easy with Kathleen Scoggin. Watercolor is the medium of instruction, but students can use the medium of their choice,
4) Monoprints in the Mountains with Morgan Miller, and
5) Landscape as a Creative Process: Using Acrylic and Water-based Paints with Janise Commentz.
Students will be given a list of materials to bring to camp. Classes will be limited to fewer than 16 participants, with maximum class size determined by venue.
In the afternoons, campers sample offerings by both the morning instructors and additional workshop leaders. The idea is to try out various media and see if any are of sufficient interest to pursue further down the hill. In addition to the morning samples, offerings will include, Alcohol Ink with Karen Krugman, Ink Drawing in the Forest with Diana Moore, Painting Rocks and Feathers with Susan Pierce, Watercolor Journaling with Marcia Harris, Photographing in the Forest with Judy MacLean., and Gelli Plates with Nancy Jo Klaphaak. Materials will be provided for the afternoon workshops. Sign-ups after breakfast each morning will keep the workshops to a reasonable size.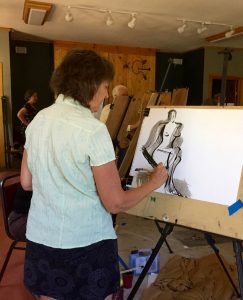 Happy hour followed by a tasty dinner are times to discuss the day's events and get ready for the evening activities. On the first evening campers are encouraged to bring some of their recent work for five-minute "Show and Tell" presentations. On subsequent evenings, morning and afternoon instructors give half-hour talks on "My Live as an Artist." These inspirational talks are a great way to get to know the instructors better. One evening will feature a presentation on "How to Market Your Art Online" by Alice Brzovic.
Besides doing art, campers can enjoy traditional camp activities such as swimming, hot-tubing, archery, hiking, walking the labyrinth, and if weather permits, canoeing on Jenks Lake which is within walking distance of camp. Don't plan on doing it all as making choices will be absolutely necessary.
Delicious meals include vegetarian, vegan and gluten-free options. Cabins are comfortable, if rustic, with shared bedrooms and bathrooms down the hall. Roommate preferences are indicated at registration. Also, some rooms with double beds are available for couples upon request.
The cost for this wonderful camp is $850, which includes room and board, instruction and participation in all the activities available. A materials list for the discipline you have chosen will be provided shortly after you register. Materials will be supplied for the afternoon workshops. Non-art participating partners can register for $750. Register on or before June 30, 2020 and receive a $50 Early Bird discount off each registration!
There will be a limited number of private rooms available at this camp. Those rooms will be in either Cabin 1 or 3. There will be an additional charge of $150 for a private room. You may REQUEST a private room by answering yes to the question below. Requests will be handled on a "first requested, first assigned" basis. We will reply to you via email with the status of your request.
A non-refundable $75 deposit is required at registration. All fees must be paid by no later than August 7, 2020 and no refunds will be given once camp has started.
To ensure the instructors can give individual attention to every student, class size is limited. Registration opens February 8, 2020. Mark your calendar and register early to be sure you can take the discipline you want!
For general information, contact Janet James, Executive Director, at director@uucamp.org or (909) 435-6298.
For information on art programs, contact Betsy Gilpin, Camp Dean, at betsygilpin01@gmail.com or (760) 230-2515.
For information on registration and rooming, contact Laura Chamberlin, Registrar, at registrar@uucamp.org or (909) 794-2928.