Camp TransSpectrum
Friday, August 21 – Sunday, August 23, 2020
Deans: Rudy and Pat Gordon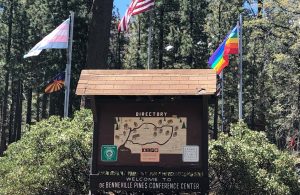 Trans men and trans women come together in a weekend of fun and outreach as they retreat in a mountain hideaway to explore, exchange, relax and recharge. In a safe setting transcampers will enjoy family and friends as well as get to know one another. Workshops, activities and all-camp events will make this weekend an adventure to remember.
Enjoy hot tubbing, archery, swimming, hiking, photography and art. Join friends at the campfire for smore's and more! Breakout sessions for significant others, friends and allies, and trans men and trans women will be offered during the weekend.
Camp TransSpectrum is held at Camp de Benneville Pines, a Unitarian Universalist Camp, where all campers are treated with respect and dignity. The food is yummy and vegan, vegetarian and gluten free menu items are available. Located at 6800 feet in an alpine forest, de Benneville Pines has opened its doors to all people for since 1961. The branches of the mighty ponderosa furl outwards to welcome all who enter the camp. "Come, come whoever you are," is the calling in the pines and a favorite song of campers.
Join us for the weekend with SOFFA (Significant Others, Family, Friends, Allies) for adults 18+.
Cost:
$200 per person includes lodging, programming and all meals
$60/person double bed upgrade in Craig's Cabin (2 person required)
$50/person upper twin bunk in Craig's Cabin
$60/person upgrade for Cabin 6
Submit registration with a $75/person non-refundable deposit, full balance due one week before start of camp. No refunds will be allowed after Check-in begins on first day of camp.
For general information, contact Janet James, Executive Director, director@uucamp.org or call (909) 435-6298.
For information on 2020 Camp TransSpectrum, contact Rudy Gordon, Dean, uurudymac@gmail.com.
For information on registration, contact Laura Chamberlin, Registrar, registrar@uucamp.org or call (909) 794-2928.