Building Resilience
A Virtual Weekend
sponsored by
YOGA CAMP 2020
Friday, September 11 – Sunday, 13
Deans: Kathy Bolte and Lisa Harris
Disappointed that there won't be Yoga Camp in the mountains this year?

Lisa and Kathy have got 'cha covered! This popular camp weekend is going VIRTUAL and this year you can participate right from your own home! Lisa Harris and Kathy Bolte have re-imagined the weekend to continue to give you the positive experience and revitalization that Yoga Camp provides!
The dates haven't changed, the format will take place on ZOOM, and the session times will be scaled back to allow you to participate from home, stay safe, and still maintain the demands and responsibilities of family and life in general.
The shorter schedule will focus on Building Resiliency. During this challenging time, it's more important than ever for us to be able to withstand or recover from difficult situations. So, our focus this year will be on sharing and cultivating strategies for resilience.
And, while there will be fewer sessions than usual, we will still have morning coffee hour and afternoon social time. Plus, in the spirit of a "stay at home camp", on Saturday night, we invite you to have your household members join in the fun.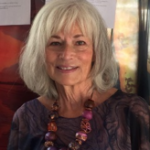 Pam Hale Trachta is our keynote speaker. Educated at Stanford and Columbia Universities, Pam has created a unique body of work woven from her varied experiences as a teacher, life coach, spiritual counselor, photographer, and shamanic practitioner. She is dedicated to helping people thrive physically, professionally, and spiritually so they can contribute to higher consciousness on the planet. She is author of Flying Lessons, creator of the Sand Spirit Insight Cards, and founder of Earthskin Designs.
Uncomfortable on-line? Unfamiliar with ZOOM? We will have pre-weekend ZOOM walk-through tutorials for those of you not familiar or comfortable with this platform yet, and support will be available throughout the weekend. We hope that the virtual nature of this year's event will encourage MORE of you to register since you can do so from the comfort of your own homes! This is the perfect time to try or come back to Yoga Camp.
FEE: Because of the many hardships due to COVID-19, we are offering this program free of charge.
DONATIONS: Our registration form offers an opportunity to donate to our COVID-19 Emergency Fund after you sign up for camp. You may also donate directly on our website.
For general information, contact Janet James, Executive Director, director@uucamp.org or call (909) 435-6298.
For information on registration, contact Laura Chamberlin, Registrar, registrar@uucamp.org or call (909) 794-2928.