Soaring Beyond Your Limits
Friday, September 11 – Sunday, September 13, 2020
Deans: Lisa Harris and Kathe Bolte
with keynote teacher Pam Hale Trachta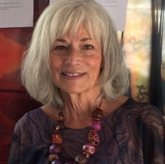 Pam Hale Trachta asks us: "When have you felt as if you were soaring? And what would it look like for you to take off now in your life? Maybe it would mean writing that book or taking that trip or starting that business. Or maybe it would mean finding a safe place inside to which you could always journey, no matter what was going on. It might mean finding a way to refuel, to put yourself first in the best sense, thus liberating you from struggling with your burdens. Maybe it would mean knowing, remembering your own magnificence, so that you could pilot your way through life with grace and ease."
Come to Yoga Camp 2020 where we will practice piloting our own journey with the inspiration of yoga, mindfulness meditation, essential oils, sound meditation, art, self-massage, music, and being in nature. We are so excited to have as our keynote teacher, Pam Hale Trachta, author of Flying Lessons, and creator of the Sand Spirit Insight Cards.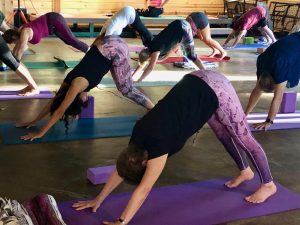 Educated at Stanford and Columbia Universities, Pam has created a unique body of work woven from her varied experiences as a teacher, life coach, spiritual counselor, photographer, and shamanic practitioner. She is dedicated to helping people thrive physically, professionally, and spiritually so they can contribute to higher consciousness on the planet.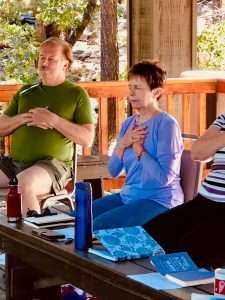 All skill levels from beginners to advanced yoga practitioners are welcome! Sign up early to assure your place in this weekend of Self Care.
Click here to learn more about the Camp Deans' Kathy Bolte and Lisa Harris.
Price includes food, lodging, classes and activities
$199 per person special discount if registered by July 31, 2019
$225 per person standard rate effective August 1, 2019
Upgrades: An additional $30 per person for Craig's Cabin and Cabin 6.
Thursday Arrival: An additional $25 per person to arrive Thursday afternoon. Lodging only, bring picnic food!
A non-refundable $75 deposit is required at registration. All fees must be paid by no later than September 4, 2020 and no refunds will be given once camp has started.
Additional fees apply for massage, acupuncture and individual instruction.