Friday, September 10 to Wednesday, September 15, 2021
RESCHEDULED
Friday, October 1 to Wednesday, October 6, 2021
Dean: Betsy Gilpin

Art Groove turns 15 this summer! This six-day and five-night adult program provides opportunities to deepen your artistic skills or explore new areas of expression. Creativity, learning and fun are the rules of the day.
Each day is divided into two sections. The mornings will be spent in one of the three disciplines offered by skilled instructors. You select the discipline you want at registration. The afternoon format is mini-workshops which provide a great opportunity to try something new or enjoy revisiting an art technique you've done before.
This year's three disciplines will be led by a combination of beloved, returning instructors and a new one: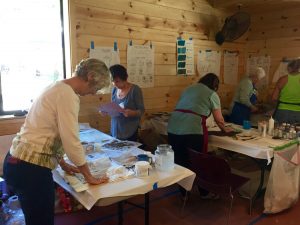 The afternoon workshops will be led by long-time Art Groove attendees and instructors. Jamie Utter who will teach you about Watercolor Journaling and Susan Pierce returns to lead the ever-popular Rock Painting and Mosaics. Abbey Chamberlain's workshop is titled Sculpey Clay.  and Karen Krugman's Alcohol Ink workshops round up the line-up.
You can read more about each of the disciplines or workshops and learn more about the instructors by clicking on their individual names or by going to www.artcamp4grownups.com.
Attendees are encouraged to combine art instruction with traditional Camp de Benneville Pines summer pleasures such as hiking, and relaxing under the trees or in the Jacuzzi. Located at an elevation of 6,800 feet in the San Bernardino National Forest, the camp is surrounded by towering pines, oaks and cedars. Only due to the heroism of scores of firefighters last September is the camp even still standing.  The area surrounding camp was saved and continues to give that "I'm in the Forest" vibe. Jenks Late water level is low due to the helicopters using of its water to help save camp and the surrounding area.  Additionally, so many industrious volunteers, staff and crews have worked tirelessly to refurbished the land and improve/remodel the facilities at Camp, that you will feel that your time at camp is a great experience!  And have the same gratitude to the firefighters as we do.
Delicious meals are served in Homet Lodge, with omnivore, vegetarian, vegan and gluten-free entrees offered if requested during registration. Cabins are comfortable, if rustic, with shared bathrooms and showers. This year we are limiting cabin occupancy to two persons per room, and only in bottom bunks. There are a limited number of double bed rooms available for spouses/partners of artists who want to come for a relaxing week in the mountains without participating in the art programs.
The cost for this wonderful camp is $950, which includes room and board,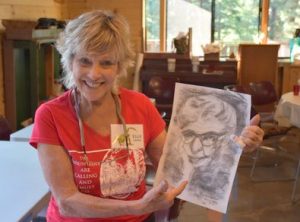 instruction and participation in all the activities available. A materials list or fee for the discipline you have chosen is available by clicking the appropriate discipline link above. Materials will be supplied for the afternoon workshops. Non-art participating partners can register for $850. Register on or before August 1, 2021 and receive a $50 Early Bird discount off each registration!
Another discount is available for those who can bring a friend who has never been to Art Groove before and is someone you could room with. Both of you will get another $50 off!
A non-refundable $75 deposit is required at registration. All fees must be paid by no later than September 23, 2021 and no refunds will be given once camp has started.
To ensure the instructors can give individual attention to every student, class size is limited. Registration is open! Mark your calendar and register early to be sure you can take the discipline you want!
For general information, contact Janet James, Executive Director, at director@uucamp.org or (909) 435-6298.
For information on art programs, contact Betsy Gilpin, Camp Dean, at betsygilpin01@gmail.com or (760) 230-2515.
For information on registration and rooming, contact Laura Chamberlin, Registrar, at registrar@uucamp.org or (909) 794-2928.