Embracing Change
Friday, September 10 – Sunday, September 12, 2020
Dean: Kathy Bolte
Keynote Teacher: Jacquie Freeman
There's no denying it, life as you've known it has changed. The pandemic we've lived with, and the social inequities it has highlighted, have pulled the rug right out from under our contented feet. You've been asked to step up to a new normal, to change the ways you are showing up in the world. All this change may be frightening and you may be experiencing growth fatigue.
Join dean Kathy Bolte for Yoga and Whole Living Camp as five extraordinary teachers give you tools that will help you embrace the changes you're experiencing.
Another facet of "Embracing Change" is that we've expanded our name and our scope of vision for this camp. We want to move forward with offerings that will help our campers to embrace all that it means to engage in living a life of wholeness. With that in mind, we're enhancing our focus to include the inspiration of "whole living" because that has always been a part of what yoga truly is.
Another change that we are implementing is that we are opening this virtual camp to campers ages 16 and older! Won't it be great to share this experience with your kids or grandkids? The more, the merrier!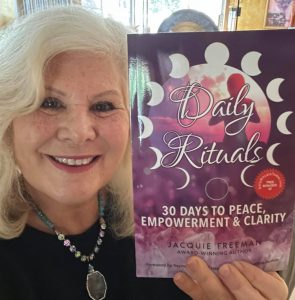 If you've been to Yoga Camp before, you've already had the opportunity to learn from this year's dynamic keynote speaker, Jacquie Freeman. If this is your first chance to attend one of Jacquie's workshops, you're in for a treat. Jacquie will be sharing the wisdom found in her newly published, best selling book, "Daily Rituals — 30 Days to Peace, Empowerment and Clarity."
As we did last year, we will be hosting this year's camp virtually via Zoom. It was a huge success last year and we are confident that this year will be even better! We'll miss being together in the pines but you can experience all the camp goodness from the comfort of your own home!
The fee to cover the cost of this camp is $60.00. However, we want to include as many people as possible. We have initiated a sliding scale to allow everyone who wants to attend the ability to do so. When you register, you can choose what you can afford, whether that be less than $60.00 or more than $60.00 to help off-set costs.
And finally, our beloved Lisa Harris has stepped down as Co-Dean of camp. Kathy Bolte has assumed all dean responsibilities and Lisa will be one of the teachers this year. You'll still get to experience the joy of being in class with her.
Click here to Meet Your Teachers.
Click here to review the schedule for the weekend. The schedule is subject to minor changes but it will give you a good sense of what you have to look forward to.