LIFE DRAWING
Friday, December 10, 2021 to Sunday, December 12, 2021
 de Benneville Pines in the Winter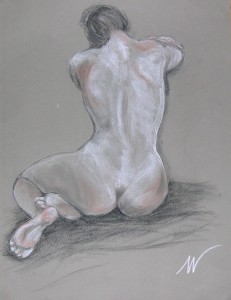 An abbreviated version of the Summer Art Groove, this camp offers Life Drawing only. It's a great way to brush up on your drawing skills and reconnect with other Art Campers. This short camp will consist of three drawing sessions with a live model on Friday afternoon, Saturday morning and Sunday morning, with critiques and discussions throughout.
The model fees and materials are included in the price as well as accommodations. There will be no meal service, so we will work together to plan meals and cook for each other. We will all stay in Craig's Cabin and Cabin 6 and the drawing sessions will take place in the Lodge.
As this short camp is scheduled for the winter there may be snow. If the snow is light to moderate, we MAY be able to work out a shuttle service of some kind from Mentone for those who cannot drive in the snow. If it is a severe storm, we will cancel and refund your money. But, it might also be sunny and clear.
Cost is $185 per person with a limit of 13 campers.
Payment in full is due at registration due to so few days before this camp starts.
Questions? Contact registrar@uucamp.org.
Register