Folk Music Retreat
Friday, November 4 – Sunday, November 6, 2022
Dean: Janice Gelencser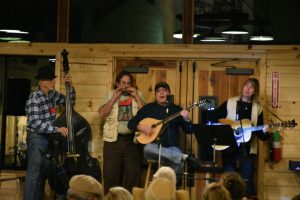 Music in the Mountains held annually during the first weekend of November is filled with acoustic music of folk, blues, country, gospel, and classic rock. All types of acoustic musical instruments, singing and levels of proficiency are welcome. Also included in the weekend are a variety of workshops for instrument players as well as singers. For folks who do not play an instrument, there are plenty of opportunities to sing along or just listen to the many talented people who are playing. There is also ample time for relaxing in the lodge by the warm fireplace, meeting other people from all over southern California, and spending time outside in the crisp autumn air.
The planning committee is busy at work to bring a weekend filled with interesting workshops and activities. There will be an evening concert on Friday night performed by the committee members and workshop leaders and one on Saturday evening performed by attendees who wish to share a song or two.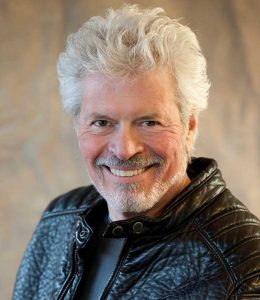 This year's headliner will be well-known musicologist and curator of American music, Larry Wilder. He brings fascinating stories behind the artists and songs he shares to remind us how we are all part of the great music of America. And, he is a National Yodeling Champion! Click here to learn more about Larry Wilder.
This amazing weekend is so reasonably priced that you can hardly justify staying home! Lodging and six delicious meals are included in the registration price, and you won't have to life a finger, expect perhaps to pluck the strings of your instrument ( and maybe to set up and bus tables). This is our most reasonably priced adult camp at de Benneville Pines.
Should you want to arrive at camp on Thursday evening, that option is available for an additional $25 per person. If you choose this option, please be prepared to bring food for dinner on Thursday and breakfast and lunch on Friday. The first meal served will be dinner on Friday night. Please be sure to check the appropriate box on the registration page!
Craig's Cabin is being used by the event organizing team and is not available for camper use. Housing upgrade requests will be considered on a "first come, first served" basis. However, couples' requests for double beds in Cabins 5, 7 and 8 will be given priority over unaccompanied single persons making the same request. Due to scarcity, not all requests can be fulfilled, so if you have special accommodations needs, please register early.
Standard 
Accommodation Pricing: $175/person
Upgrade Pricing: Cabin 6 = $35 additional/person
Upgrade Pricing: Double bed room = $20 additional/person
A $75 per person non-refundable security deposit is required for all registrations. Your registration will not be considered confirmed until the security deposit has been received. Payment in full must be received by no later than October 28, 2022. We do NOT accept payment at Check-in.
Our thanks to the LA Song Makers for programming the weekend with wonderful workshops.