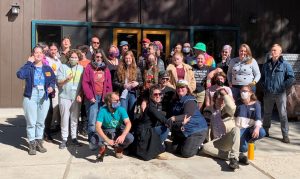 2022 UU Young Adult Camp
"2 Young 2 Adult"
Friday, September 2 to Monday, September 5, 2022
Deans: Emmalinda MacLean and Mac Holland
Camping Ministries Director: Marianne Swift-Gifford
Who's to say what "adulthood" means anymore, when the goalposts for stability have moved so far in a generation? And how many of us are sure we even want responsibility or power, after seeing it used to oppress and exploit the vulnerable?
Join us in the mountains to redefine adulting, renew your spirit, and reconnect with a Unitarian Universalist community grounded in faith and justice. YA Camp Deans Mac Holland and Emmalinda MacLean look forward to building and deepening connections with you all in a beautiful forest retreat setting as we explore the nostalgia, challenges, and hope-filled possibilities of our generation.
Young Adult Camp is an annual summer retreat for 18 to 35 year-old Unitarian Universalists and people of all faiths at Camp deBenneville Pines. Meet new friends, connect with old ones, learn from leaders in the social justice movements of our time, dance your heart out, laugh your head off, reconnect with the land, each other, and yourself. Camp de Benneville Pines is a retreat and conference center in the San Bernardino National Forest, surrounded by a forest of towering pines, cedars, and oaks. It is affiliated with the UUA and welcome to people of all faiths who share our philosophy of respect for the interconnected web of life and for the worth and dignity of all human beings.
The cost for this 3-night, 4-day camp is $250 per attendee with a $75 non-refundable deposit required to confirm your registration. Due to tightened safety protocols, the number of attendees, including leadership, is limited to 75. Register early and pay the deposit to insure your registration. You don't want to end up on the Waiting List!
Registration will open soon! Look for the announcement in your email.