Embracing Change
Friday, September 9 to Sunday, September 11, 2022
Dean: Kathy Bolte
Keynote Teacher: Jacquie Freeman
All in-person camps require proof of COVID-19 vaccination
There's no denying it, life as you've known it has changed. The pandemic we've lived with, and the social inequities it has highlighted, have pulled the rug right out from under our contented feet. You've been asked to step up to a new normal, to change the ways you are showing up in the world. All this change may be frightening and you may be experiencing growth fatigue.
Join dean Kathy Bolte for Yoga and Whole Living Camp as 11 extraordinary teachers give you tools that will help you embrace the changes you're experiencing.
One facet of "Embracing Change" is that we've expanded our name and our scope of vision for this camp. We want to move forward with offerings that will help our campers to embrace all that it means to engage in living a life of wholeness. With that in mind, we're enhancing our focus to include the inspiration of "whole living" because that has always been a part of what yoga truly is.
Another change is that we are opening this camp to campers ages 16 and older! Won't it be great to share this experience with your kids or grandkids?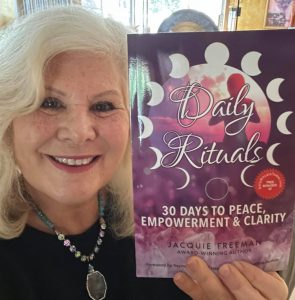 If you've been to Yoga Camp before, you've already had the opportunity to learn from this year's dynamic keynote speaker, Jacquie Freeman. If this is your first chance to attend one of Jacquie's workshops, you're in for a treat. Jacquie will be sharing the wisdom found in her newly published, best selling book, "Daily Rituals — 30 Days to Peace, Empowerment and Clarity."
This restorative weekend will revolve around the idea of Embracing Change and giving you tools you can use to do precisely that. The camp features a great lineup of extraordinary teachers to guide you toward an open relationship with change and growth. Grab your yoga mat, blanket, and blocks. Have pen and paper at your side. Bring your open mind and eager heart and get ready to begin Embracing Change.
The cost for the full weekend is $225.00. Come a day early (arrive Thursday) to enjoy the quiet camp and mountain top for an extra $25.00. Be sure to bring your own food if you come up early. The first meal served by camp staff will be dinner on Friday evening.
Click here to meet your teachers
Click here to learn more about the camp sessions