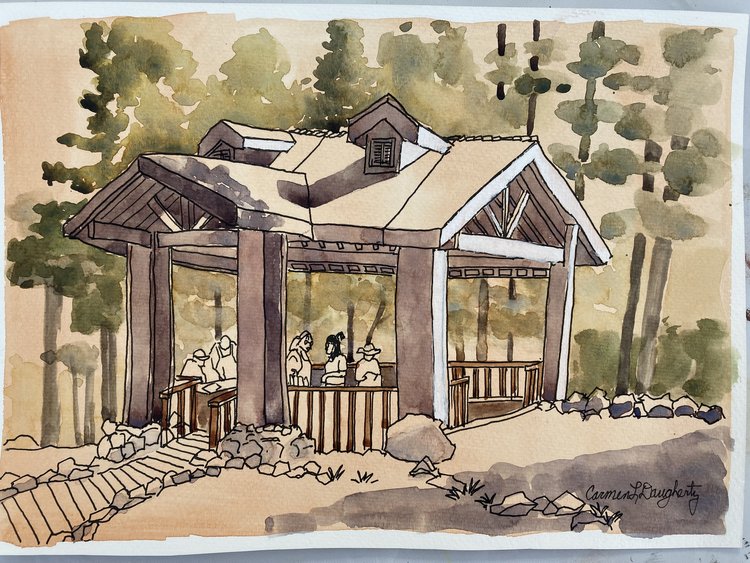 2023 Art Camp 4 Grown-ups
Thursday, September 7 to Tuesday, September 12, 2023
Deans: Abbey Chamberlain and Betsy Gilpin
Registration is OPEN!
This Artist Retreat for adults is truly special!  Experienced and novice artists alike have the chance to enjoy a six-day respite from their everyday lives in the splendor of the forest. Taught by talented, passionate, professional artists who build on their lessons over the week, Art-Campers choose one Intensive art module as their 5-day focus.  These classes are limited in size in order to provide individual attention and to accommodate the medium's venue.  Class atmosphere is supportive of the creative process, accommodating all levels of proficiency.
In 2023, the "Intensives" will be:
Atmospheric Landscape and Seascape Watercolors with Debbie Abshear (This Intensive is currently accepting WAIT LIST only. Please indicate your 2nd choice under the question "Morning Intensive Selection" and in the Comment box request to be added to the wait list for the Atmospheric Watercolors Intensive.)
Monoprints with Denise Kraemer ($30 supply fee paid to instructor) (This Intensive is currently accepting WAIT LIST only. Please indicate your 2nd choice under the question "Morning Intensive Selection" and in the Comment box request to be added to the wait list for the MONOPRINT Intensive.)
Life Drawing with Jamie Utter and Greg Brown ($45 model fee paid at registration)
Pine-needle Basket Sculpture with Grace Swanson ($49 supply fee paid to instructor)
The Joy of Nature — Water-media Painting with Robin Douglas
The result is a week of growth in artistic skill and confidence. Throughout the 6-day camp, art pieces will be shared in a spirit of learning and skill development. The camp concludes with an art show on the final morning. Come take art classes and enjoy the company of fellow artists.
Students will be given a list of materials to bring to camp. Classes will be limited to fewer than 16 participants, with maximum class size determined by the venue.
Then in the afternoons, campers sample offerings by both the morning instructors and additional Afternoon Workshop leaders. The idea is to try out various media and experience something new. Afternoon workshop offerings will include Art Journaling with Marcia Harris, Lettering and Calligraphy with Carmen Daugherty, Cellphone Photography in the Forest with Kim Signoret-Paar, Pastels with Nancy Jo Klaphaak, Acrylic Pour with Marcy Evers and Rock Painting and More with Susan Pierce. Materials will be provided for the afternoon workshops. There will be sign-ups after breakfast each morning.
Social hour followed by a tasty dinner are times to discuss the day's events and get ready for the evening activities. On the first evening campers are encouraged to bring some of their recent work for five-minute "Show and Tell" presentations. On subsequent evenings, the morning and afternoon instructors will give half-hour talks on "My Life as an Artist." These inspirational talks are a great way to get to know the instructors better.
Besides doing art, campers can enjoy traditional camp activities such as swimming, archery, yoga, hiking, walking the labyrinth, and if weather permits, canoeing on Jenks Lake which is within walking distance of camp. Don't plan on doing it all, as making choices will be absolutely necessary.
Delicious chef-prepared meals include vegetarian, vegan, and gluten-free options. Cabins are comfortable, if rustic, with shared bedrooms and bathrooms down the hall. A limited number of private rooms are available for an additional fee. Roommate preferences are indicated at registration. Also, some rooms with double beds are available for couples upon request.
Proof of vaccination will not be required for this year's Art Camp. Campers must Rapid test for Covid-19 within 24 hours of arrival to camp and prove a negative test result upon check-in. Click here to read the updated policy in full.
The cost for 2023 Art Camp 4 Grown-ups will be $995. Non-artist partners are welcome to come along for a fee of $895. A discount of $50 if given if registered by August 15, 2023. Also, if you bring a newbie (a friend or a family member), you both get an additional $50 off! Bring more than one friend, and they each will get a $50 discount but the "inviter" only gets the discount once.
Craig's Cabin will be used exclusively by the deans and instructors. As of 5/2/23, all rooms in Cabin 6 have been sold. Double bed rooms are available for 2-persons at $50/person.
Due to the high demand for lower beds, no private rooms can be offered at the onset of registration. Please indicate in the "Comments Section" if you are interested in a private room. We will be back in touch as we get closer to the start of camp if any private rooms are available. The upgrade fee for a private room will be $350 and it will not be collected until rooms are confirmed.  No private rooms will be available in Craig's Cabin or Cabin 6. Register early, these premium rooms get reserved quickly!
We will be offering the "Early Arrival" (Wednesday) option again this year for an additional $35. Check-in will only be available from 2 to 5 pm on Wednesday. Please make sure to arrive during this period. We will not be able to accommodate campers who arrive before or after this time frame. The first meal provided by camp will be dinner Thursday night so be sure to bring provisions and beverages to sustain you until then.
Non-refundable $75 per person deposit due at time of registration to confirm reservation.
Need even more information about this amazing Artist's Retreat, check out artcamp4grownups.