Folk Music Retreat
Friday, November 3 – Sunday, November 5, 2023
Dean: Janice Gelencser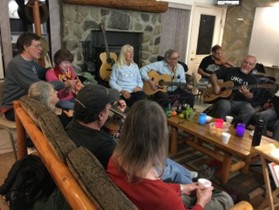 Registration is OPEN!
Join us to experience the traditions of acoustic music in a weekend filled with music and singing of blues, folk, country, gospel, and classic rock.   Set at 6,800 feet above sea level in the San Bernardino Mountains, this crisp fall weekend is the perfect place to sing, play and meet other musicians from all over Southern California.
All types and levels of acoustic musical instruments are welcome. There are workshops for instrument players and singers and those who wish may perform in the Saturday Night Concert.  For folks who do not play an instrument, there are opportunities to sing along or just listen to the many talented musicians.  There is also plenty of time for relaxing in the lodge by the warm fireplace and spending time outside in the crisp autumn air.
Tentative workshops for the weekend are harmony singing, song writing, guitar basics, sing along sessions, banjo history, song sharing, choral workshop and a guided meditation session.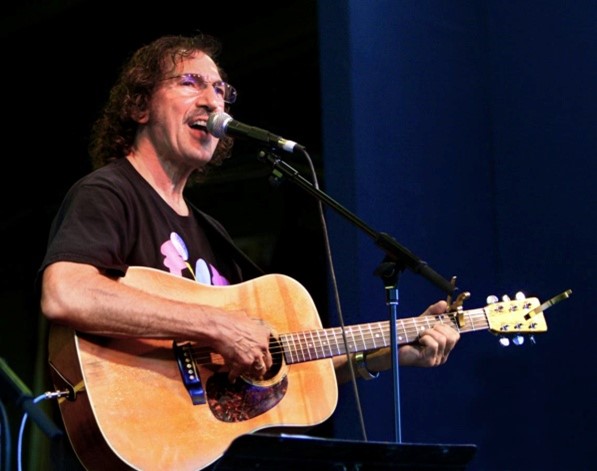 The headliner for this year will be Freebo, a folk and blues icon and singer/songwriter who has toured and recorded with some great artists such as Bonnie Raitt, CSN, Maria Muldaur, Ringo Starr, and Neil Young.  Freebo has a compassionate concern for the world and the people around him as evidenced in his lyrics and open stage banter helping him connect with listeners worldwide.  He will lead two exciting workshops on Saturday. One will be on songwriting with sharing of original songs. The other workshop focus on honing guitar skills to make chords more interesting.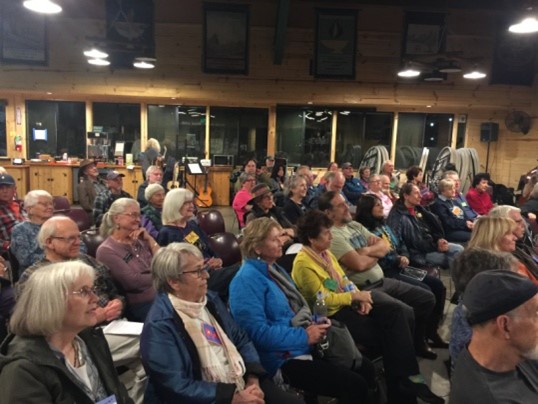 Even if you have no talent but love to listen to great music, you may want to come and enjoy the comfortable facilities, great food, wonderful ambiance and great music from morning 'til night.
Six delicious meals, lodging and workshops are included in the registration price. Should you want to arrive at camp on Thursday evening, that option is available for an additional $25 per person. If you choose this option, please be prepared to bring food for dinner on Thursday and breakfast and lunch on Friday. The first meal served will be dinner on Friday night. Please be sure to check the appropriate box on the registration page!
Craig's Cabin is being used by the event organizing team and is not available for camper use. Housing upgrade requests will be considered on a "first come, first served" basis. However, couples' requests for double beds in Cabins 5, 7 and 8 will be given priority over unaccompanied single persons making the same request. Due to scarcity, not all requests can be fulfilled, so if you have special accommodations needs, please register early.
A $75 per person non-refundable security deposit is required for all registrations. Your registration will not be considered confirmed until the security deposit has been received. Payment in full must be received by no later than October 27, 2023. We do NOT accept payment at Check-in.
Camp deBenneville Pines has moved to a self-selecting sliding fee scale. Level 1 is our minimum cost, Level 2 is what it takes for us to meet our expenses, and Level 3 helps us to offset costs and supports camp's scholarship fund. The pricing is as follows:
Camper Pricing:
Level 1 = $180
Level 2 = $200
Level 3 = $220
Accommodations:
Standard Accommodation = included in Camper Pricing
Cabin 6 upgrade: $35 additional fee – SOLD OUT!
Double Bed Room upgrade: $25/person, 2 people required – SOLD OUT!
Early Arrival (Thursday): $25 additional fee
Our thanks to the LA Song Makers for programming the weekend with wonderful workshops.