Singing in the Pines – Love Out Loud
Saturday, August 8 – Wednesday, August 12, 2020
Dean: Scott Roewe
Choir Director: Donald Milton III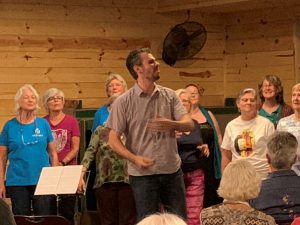 Along with towering trees and refreshing breezes, love will be in the air at Choir Camp this year. Sharing the weekend with Adult Camp Summer Break it will abound with beauty, new and long-standing friends, workshops, swimming, hot-tubbing, great food, and songs about love in many forms.
Choir Camp Dean, Scott Rowe, is a multifaceted musician, performing and recording artist, composer, choir director, and teacher. Scott is currently the Jazz Band Director at New Roads High School in Santa Monica California and taught during the Crossroads High School 2008, 2009 and 2010 Summer Jazz Camps. Since 2004 Scott has served as the music director at the Unitarian Universalist Church of Santa Clarita. His musical virtuosity has been known to bring both smiles and tears to those who experience his music.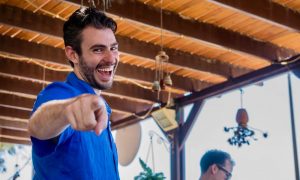 Joining Scott as featured Choir Director is Donald Milton III. Last year Don wowed choir participants and audience members alike with his energy and dynamic and insightful manner of musical arrangement and directing.  Don is the full-time Director of Music at the Unitarian Universalist Congregation of Atlanta (UUCA), the largest UU congregation in the Southeast.  At UUCA Don runs one of the most eclectic and exceptional music programs in the city and in the denomination. Active in the Atlanta music scene, Don has served as executive and artistic director of numerous musical organizations including Sky Punch, a company he founded which produces sing-alongs, concerts, and other interactive community music events. In January 2018, Don was appointed Artistic Director of the Atlanta Gay Men's Chorus. Don's energy and inspiration are infectious, and he can encourage a confident voice from the most reluctant of singers.
Join Scott, Don, and other lovers of song at Singing in the Pines 2020, Love Out Loud, for a not-to-be-missed week of joyful singing, love, laughter, and fellowship. Registration is limited to 20 people. Be sure you are a part of it.
For additional information on music theme or song selections for this year. Contact Scott Rowe at scott.roewe@gmail.com
Early bird registration ends June 30, 2020. Note that for the past three years, this camp has sold out by May.
Our UU Summer Break Camp for Adults will be happening concurrently with UU Choir Camp. Participants are invited to attend Summer Break events when choir practice is not in session.
PRICING
Base price: $550 per person includes lodging, programming and all meals
AS OF 7:55 AM ON 4/1/20 ALL ROOMS IN CRAIG'S CABIN ARE SOLD OUT!
Craig's Cabin: An additional $60/person for double bed accommodation, and an additional $50/person twin bunk accommodation
Cabin 6: An additional $40/person
Double Beds (Cabin 5, 7 and 8): An additional $40/person, 2 persons required
Early Bird Special Discount: Register by June 30, 2020 and receive a $30 discount
Submit registration with a $75/person non-refundable deposit, full balance due one week before start of camp. No refunds will be allowed after Check-in begins on first day of camp.
For general information, contact Janet James, Executive Director, director@uucamp.org or call (909) 435-6298.
For additional information on music theme or song selections for this year, contact Scott Rowe at scott.roewe@gmail.com
For information on registration, contact Laura Chamberlin, Registrar, registrar@uucamp.org or call (909) 794-2928.