Art Groove 2020 Virtual Offerings
in the Era of the COVID-19 Pandemic
Dean: Betsy Gilpin
Friday, August 14 — Wednesday, August 19, 2020
Besides connecting with your Art Groove buddies and creating some art, the opportunity to come together to support Camp de Benneville Pines and the survival of Art Groove, is important to us. Art Groove has been modestly priced to make it affordable for all, and if you are so inclined, please make an additional  donation to Camp at the end of the registration form.  Camp de Benneville Pines is struggling to stay afloat, and your donation will help offset the costs of operations during our COVID closure. Directions for class and Zoom information will be supplied to registrants.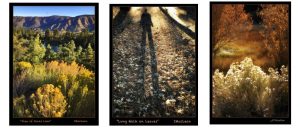 Everyone likes to take photographs. Best friends, Judy MacLean Fowler and Abbey Chamberlain, previous instructors at Art Groove, are collaborating to bring you a fun and educational photography module. It will be a blend of technique and creativity. All artists have insight and imagination, and Judy and Abbey will help you bring your best art forward. This class will allow you to explore the tools of the camera to gain better results when capturing an image. Students may use any kind of camera, including a cell phone! And we will use Snapseed, a phone app, to discover simple yet creative ways to modify after-capture. In three classes of two hours each, plus a day of shooting, and a day to  play with Snapseed, we will share what we've learned and show off our art. Judy and Abbey will demonstrate ways to improve images as part of the class assignments.
Schedule:
Thursday, 8/13, 1 – 3 pm
Saturday, 8/15, 3 – 5 pm
Tuesday, 8/18, 1 – 3 pm
COST:   $50
Plein Air with Janis Commentz.  Plein air painting is about leaving the four walls of the studio behind and experiencing painting and drawing in the landscape. Landscapes exist no matter where we are hiding out these days–a park, our backyard, looking out a bedroom window to nature.  Class with Janis will emphasize the creative process with a focus on landscape painting in acrylic and other water-based paints (gouache, ink and watercolor). You will enjoy thumbnail sketching, composition, planning a painting, and playing with varied techniques and effects (emphasis on PLAY). Both indoor and plein air painting will be expressed. Experimenting with personal preferences — abstract, impressionism, or realism — will be encouraged. Due to the Zoom nature of the class, you should have at least a beginning knowledge of the mediums described.
Schedule:
Saturday, 8/15, 9 – 11 am, with sharing follow-up at 12:30 pm
Sunday, 8/16, 9 – 11 am, with sharing follow-up at 12:30 pm
Tuesday, 8/18, 10 am – Noon – final sharing and wrap-up
COST:   $100
Please note that class schedules have been arranged so students are free to take BOTH modules. Let your creative juices flow and have twice as much fun!
Art Show — Wednesday, August 19, 10 am – Noon
We always close Art Groove with display of our creations. Please join this final Zoom gathering and be prepared to share one piece from your experience with our art adventures!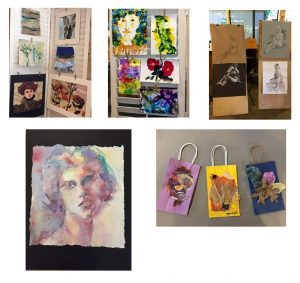 Donations: Our registration form offers an opportunity to donate to our COVID-19 Emergency Fund after you sign up for camp. If you have the capacity to support camp operations, please help!  Without an income from summer camps, Camp is struggling financially.  You may also donate directly on our website.
For general information, contact Janet James, Executive Director, director@uucamp.org or call (909) 435-6298.
For information on registration, contact Laura Chamberlin, Registrar, registrar@uucamp.org or call (909) 794-2928.