Music In The Mountains
Friday, November 2 — Sunday, November 4, 2018
Join us for an unforgettable weekend at
Camp de Benneville Pines
There is something truly inspiring about a creative weekend of music-making together. Join us to elevate and celebrate the traditions of acoustic folk music at a memorable weekend of toe-tapping music!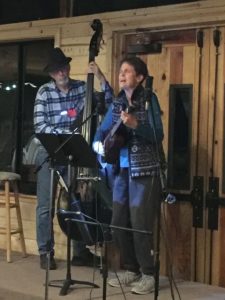 All levels of fiddlers, guitarists, banjo players, percussionists, and other instrumentalists and singers may attend scheduled workshops and jam in spontaneous groups throughout the weekend. Those who wish to perform may do so at the Saturday night concert. Even if you have no talent, but love to listen to great music, you may want to come on up and enjoy our comfortable facilities, great food, wonderful ambiance and hear great sounds from morning 'til night. Seldom will you find such a gathering of elevated talent as that which assembles on this crisp fall weekend at 6,800 feet above sea level. Sing, play, jam and dance, all day and into the night. Meet musicians and singers from all over California and beyond. Music in the Mountains is sure to enhance the artistic soul of each and every person who attends.
The headliner this year will be the amazing Severin Browne, a sought-after guest in many singer-songwriter festivals and shows. He has charmed audiences for nearly 40 years with his easy manner,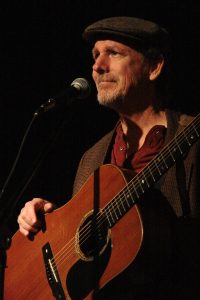 brilliant lyrics and solid melodies. His career has run the gamut as a Motown staff songwriter and artist, packing clubs and festivals with the Severin Browne Band, and recording 6 albums. Currently, he is performing with his group "The Tall Men" with a new CD release coming soon. Severin will perform in the evening concerts and lead two workshops on Saturday. Other workshops for the weekend may include vocal tips, songwriting, guitar techniques, singalongs, ukulele and a workshop on creating pentangle art.
This amazing weekend is so reasonably priced that you can hardly justify staying home! Lodging and six delicious meals are included in the registration price, and you won't have to lift a finger, except perhaps to pluck the strings of your instrument (and maybe to set up and bus tables). This is our most reasonably priced adult camp at de Benneville Pines with a price that is unavailable at all other times.
Should you want to arrive at camp on Thursday evening that option is available for an additional $20 per person. If you choose this option, please be prepared to bring food for dinner on Thursday and breakfast and lunch on Friday. The first meal served will be dinner on Friday night. Please be sure to check the appropriate box on the registration page.
Registration is open and the camp is filling up fast.
Register now to avoid the Waiting List!
Pricing per person: $148
Only individual beds are now available




Craig's Cabin is SOLD OUT!
Cabin 6 is SOLD OUT!

 

DOUBLE BED ROOMS ARE SOLD OUT!
Housing upgrade requests will be considered on a first come first served basis. However, couples' requests for double beds in cabins 5,7 and 8 will be given priority over unaccompanied single persons making the same request. Due to scarcity, not all requests can be fulfilled, so if you have special accommodation needs, please register early.
We prefer that you Register On-Line for this event by clicking on the link below. A $75/person non-refundable deposit is required for all registrations. Payment in full must be received one week prior to the beginning of camp. We do not accept payment at Check-in.
Our thanks to the LA Song Makers for programming the weekend with wonderful workshops. 
Register!