Establishing a Practice of Self Care
Through Yoga
Friday, September 6 — Sunday, September 8, 2019
Deans: Lisa Harris and Kathy Bolte
Self Care may seem obvious at first…of course you take care of yourself! Right?
We all have periods where "life gets in the way" — stress at work mounts up, you start losing sleep, eating badly and not taking time to include regular movement activities. That's when having a few simple self care techniques in your back pocket can come to the rescue.
As of May 31, 2019, Craig's Cabin, Cabin 6 and all double beds rooms are sold out!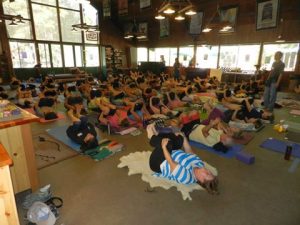 Taking time out in the day to focus on self care can yield great results in all area of your life. Deans Lisa and Kathy and many wonderful teachers will gather at this camp to share ways to make YOU a priority again. Return home with a repertoire of techniques for self care through yoga, meditation, art, music, writing, storytelling and many other enriching techniques.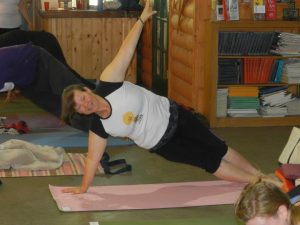 All skill levels from beginners to advanced yoga practitioners are welcome! Sign up early to assure your place in this weekend of Self Care.
Click here to learn more about the Camp Deans' Kathy Bolte and Lisa Harris.
Price includes food, lodging, classes and activities
$199 per person special discount if registered by July 31, 2019
$225 per person standard rate effective August 1, 2019
Upgrades: An additional $30 per person for Craig's Cabin and Cabin 6. As of May 31, 2019, Craig's Cabin, Cabin 6 and all double beds rooms are sold out!
Thursday Arrival: An additional $20 per person to arrive Thursday afternoon. Lodging only, bring picnic food!
A non-refundable $75 deposit is required at registration. All fees must be paid by no later than August 30, 2019 and no refunds will be given once camp has started.
Additional fees apply for massage, acupuncture and individual instruction.