Autumn Rendezvous for Homeschool Families
Monday, October 5 to Thursday, October 8, 2020
Dean: Jorie Denny
Due to the COVID-19 pandemic, this camp has been canceled.
Come join other like-minded families for an exciting time exploring nature, relaxing and having fun! Frolic in the woods, whittle a walking stick, or hike to the peak!
Each fall, homeschooling families with kids (and grandparents!) of all ages come together at Camp de Benneville Pines to share experiences and enjoy a hassle-free outing.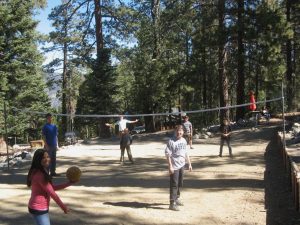 Every family is encouraged to lead an activity based on their interest: hiking and scavenger hunting, games and sports, educational and environmental programs, or arts and crafts! Enjoy "family time" while the camp staff handles kitchen duty! Autumn is a great time to come to camp. Enjoy the smell and taste of homemade pie, hot apple cider, and fresh baked bread.
AS OF 10:30 AM 4/1/20 ALL ROOMS IN CABIN 6 ARE SOLD OUT!
Base Price: $150 per person (max $600 for families of 4 or more!) Children 2 and under are always free!
Craig's Cabin: $45 upgrade per family
Cabin 6: $45 upgrade per family — SOLD OUT
Non-Refundable $50 deposit per person (up to maximum 4 people) is required to reserve space at this camp.
Additional payments may be made monthly, with the balance to be paid in full seven (7) days prior to the start of camp. Payments are not accepted during Check-in.
Each family is assigned their own room with bunk beds. Some double beds are available.