Monday, April 20 – Wednesday, April 22, 2020
(DATE CONFIRMED)
Twice a year, every year, volunteer come up the mountain to help spiff up camp. And every year, everyone has a great time working together to keep Camp de Benneville Pines in good repair. We need all kinds of help: painting, raking, organizing the library or repairing pool furniture. There are tasks for everyone, from easy jobs to heavy lifting, both indoors and out.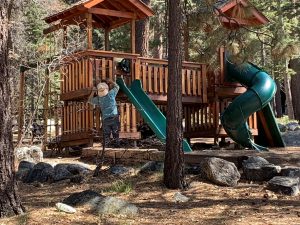 We have room for 50 energetic and generous individuals, age 11 and older, who are willing to spend a little "sweat equity" at camp. We promise you delicious food, comfortable accommodations and great camaraderie. You'll leave knowing your efforts are appreciated by the staff and will ensure that future campers have a safe and wonder experience at camp.
AS OF 3/2/20, WE ARE RESERVING ALL ROOMS IN CRAIG'S CABIN AND CABIN 6 FOR ANOTHER POTENTIAL RETREAT. SHOULD THIS RETREAT NOT HAPPEN AND YOU WISH TO STAY IN ONE OF THESE CABINS, PLEASE INDICATE SO IN THE ACCOMMODATION PREFERENCE QUESTION. IF THIS POTENTIAL RETREAT DOES HAPPEN, ALL VOLUNTEERS WILL BE HOUSED IN OUR STANDARD CABINS.