A Camp de Benneville Pines Tradition
Thursday, November 25 – Sunday, November 28, 2021
Registration is OPEN
This camp is currently SOLD OUT! All new registrations will be placed on the Waiting List!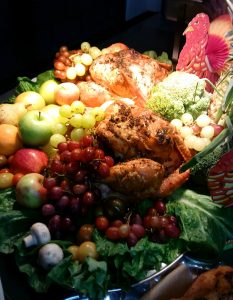 Imagine sitting around a blazing fireplace in Homet Lodge, surrounded by family and close friends, some you didn't even know you had. The aromas of roasting turkey, fresh-baked apple pie, homemade bread and hot apple cider fill the air, mingled with the faint aromatic fragrance of cedar smoke. This describes the Thanksgiving Celebration at Camp de Benneville Pines.
With an abundance of caution, we are limiting the number of campers who can attend this camp to 60 people, all of whom must be fully vaccinated. Unfortunately, as of now, that means that children under 12 may not attend. When the CDC authorizes another age tier of children to receive the vaccine, of course we will comply and open registration up to them. 
Come to camp and experience a hassle-free Thanksgiving that will be the best you've every had. This is a special weekend for families, singles, couples and young adults. It is truly an intergenerational event!
The sounds of laughter fills the air, and you are lulled into a state of contentment and joy because YOU DON'T HAVE TO COOK THANKSGIVING DINNER, or do anything, really. No, you don't have to work yourself into a frenzy, because in the lodge kitchen, our staff of skilled cooks will be busy preparing a traditional Thanksgiving feast with all the fixin's and trimmings of a home-cooked meal. 
Remember, Thanksgiving is about sharing and caring for family and friends. One special tradition at Thanksgiving camp is the sharing of our talents and skills with others. We call upon participants to lead a program or offer a workshop in order to provide a wide variety of activities throughout the weekend.
Please start thinking about what you can share with others to make this weekend even more special. Do you have a good game or art project? Would you like to lead a hike or yoga class? Can you lead songs at a campfire? Then lend a generous hand by offering your gift with others this Thanksgiving camp.
Your participation ensures that there will be plenty of workshops, activities and special events for children and adults to keep you occupied. Or, you can take the opportunity for complete relaxation if you prefer. And the price couldn't be more reasonable.
PRICING
Adults: $205
Teens (12 to 18): $175
Arrive Wednesday: +$25, 
Registration is OPEN
This camp is currently SOLD OUT! All new registrations will be placed on the Waiting List!