2022 Rainbow Family Camp #2
Friday, August 19 – Sunday, August 21, 2022
Registration is OPEN!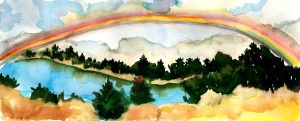 We has so much fun at our May, that we decided to do it again! Come join us in August, the pool is open and there's even more fun to be had by all!
Rainbow Family Camp is a fun-filled weekend where families with gay, lesbian, bisexual and transgender parents and guardians come together for friendship and fun with other LGBTQ families.
It is a perfect opportunity to enjoy family-centered activities in a beautiful mountain environment.  The weekend offers an atmosphere of mutual respect, community, kindness, and support.  Family-centered activities include, community meals, archery, arts and crafts, hiking, a talent show and family dance.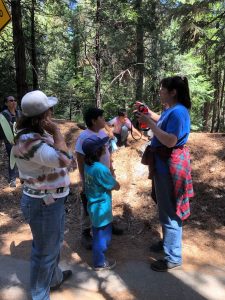 Proof of vaccination will be required prior to arrival at Camp. Additionally, masking is recommended for all indoor activities except for while a camper is sitting down to eat or drink. At this time, we are only allowing campers fully vaccinated against Covid-19 on our campus.
This Rainbow Family Camp has an amazing Planning Committee made up of your families. This committee is planning lots of fun events and activities for your family to enjoy over the weekend.  The Planning Committee is fully versed on these new protocols and their plans are being made with these new policies in mind.
We have missed you and very much appreciate your many years of support, friendship and camping with us at Camp de Benneville Pines.  Share the magic of camp and spread the word, Rainbow Family Camp is back in 2022!
Prices includes lodging, all meals, activities, and supplies. A $75 per person non-refundable deposit is required to confirm registration.
Adults (ages19 and older): $175/person
Youths (ages 13 to 18): $160/person
Children (ages 3 – 12): $140 per person
Toddlers (ages 2 and under): no charge
Upgrades charge for Craig's Cabin or Cabin 6: $35/adult, no additional charge for youth, children or toddlers
Click here to read more about Camp's current COVID policies.
A full Camper Packet with directions and camp information will be emailed to you approximately 10 days prior to camp start date.
Questions regarding program: Contact Jill Lummus, camp dean, jwlummus@gmail.com
Questions regarding facilities or the general camp: Contact Janet James, executive director, director@uucamp.org, 909-435-6298
Questions regarding registration, payment arrangements or cabin assignments: Contact Laura Chamberlin, registrar@uucamp.org, 305-389-4755
Register