JOIN FRIENDS AND COLLEAGUES FROM THROUGHOUT THE
PACIFIC SOUTHWEST SERVICE AREA (PSWD)
APRIL 21 – 23, 2023
Registration is open!
Click the button below to register to attend the Assembly, either in-person or virtually!
Click the button below to learn more and register to attend our 2023 UU Spring Youth Con taking place concurrently with the Assembly!
We are so excited! Plans for the 2023 Pacific Southwest Service Area Assembly in San Luis Obispo are coming together. This year's local UU assembly is being held April 21 to April 23 at the beautiful congregational facility, Unitarian Universalists San Luis Obispo, and is themed Living in Harmony with Each Other and our Earth.
Join us to share what's going on in your congregation and to enjoy meaningful keynote topics, an assortment of workshops, youth con activities, worship, meals and more! Two noted keynote speakers will take the stage at this year's assembly.
Speaker chairwoman Violet Sage Walker of the Northern Chumash tribal Council (NCTC) is the Nominator of the proposed Chumash Heritage National Marine Sanctuary. With 35 years of experience in cultural resource management and over a decade working on the marine sanctuary campaign, her expertise guides NCTC's multifaceted work in California and beyond.
Chair Sage Walker has traveled the world sharing her knowledge on collaborative management, social justice and equity. Her leadership is backed by an understanding of what it means to take care of our planet, be good stewards, and foster community. Chair Walker's connection to the ocean remains at the heart of all she does — her compass is set to the sea.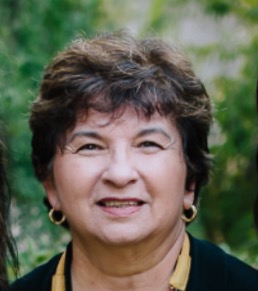 Mona Olivas Tucker will share yak tityu tityu yak tiłhini Northern Chumash tribal history of San Luis Obispo County and region, ongoing efforts for ancestral Land back, and the tribe's limitless future. She is the Tribal Chair of the ytt Tribe. Born in San Luis Obispo, Ms. Tucker has lived continuously in the southern part of SLO County. She is the great-granddaughter of Rosario Cooper who was the last known fluent speaker of the tilhini language.
Along with Tribal responsibilities, Ms. Tucker is an associate member of the ytt Northern Chumash Nonprofit, member of the UCSB Repository Chumash Advisory committee, the UCSB NAGPRA Committee, the CalTrans Cultural Studies Subcommittee, and the Santa Barbara Museum of Natural History California Indian Advisory Committee. Her passionate work to have her ancestral lands returned to the Northern Chumash Tribe (ytt Tribe) has no bounds.
This Assembly will begin on Friday afternoon with workshops, winery tour, registration check-in and a social/happy hour. Ms. Tucker will be the keynote speaker Friday evening.
Saturday will be a full day starting with a continental breakfast, a presentation by keynote speaker Violet Sage Walker, Camp de Benneville Pines business meeting, a catered lunch, afternoon workshops and field trips.
Join our commUUnity on Sunday morning for another delicious continental breakfast and meet with Mona Olivas Tucker in person.  Ms. Tucker will give a brief introduction to her organization's work at the start of worship.  For those who love to sing, arrive at 9 am to practice with the UU SLO choir.  We will wrap up our time together with a meaningful worship service including a youth bridging. After lunch, do plan to visit Old Town, hike a nature reserve, tour the coast, or gather with friends.  Sunday afternoon is the best time to discover the many treasures that are San Luis Obispo!
The organizing committee, along with the wonderful volunteers from UU SLO are pulling together the details for this event and more information will be available soon. Plans are in the works for assisting with carpool rides, home stay options, field trips to a winery and a nature preserve (potentially to a beaver pond!) and more. San Luis Obispo will also be celebrating Earth Day and we anticipate a number of interesting events will be offered throughout the weekend.
Proof of vaccination against Covid-19 is not required for this event. Mask wearing on the UU SLO campus is voluntary. This includes inside the sanctuary, social hall and RE space and the outside common spaces. Covid policies are subject to change. Check here for possible updates.
We are offering two ways to participate in this year's Assembly: in-person and virtually. We do not plan to have all the events and workshops available virtually so please come join us and take advantage of all this Assembly has to offer.
We are also offering a self-selecting registration fee scale. Level 1 covers the minimum cost of the event and Level 2 will help support others who need financial assistance to attend.
Adult Registration Fee
In-person attendance Level 1 = $75                Virtual Attendance Level 1 = $50
In-Person attendance Level 2 = $100              Virtual Attendance Level 2 = $75
Please let us know on your registration form if you have young people who will be attending with you. There will be a Youth Con for 8th to 12th graders, and potentially some daycare/childcare options. We love our young folks and welcome them!
Resources
Carpool opportunities: Details to follow
Home Stay opportunities: Click here to learn more
How to become a Delegate/How to be certified as a Delegate:  Click here to learn more
Financial Assistance request: Click here for online request form
Biddle Ranch Winery – Wine Tasting Adventure: Click here for online registration form (limit 30 people)
Vendor or Informational Booth/Table request: Click here for online request form
Hotels: Click here for a list of hotels in the area
Dining: Click here for a list of restaurants in the area
Train and Plane information:  Click here for travel information
Youth Con:  Click here for more information and to register for the Youth Con