Spring Volunteer Work Camp
Friday, May 12 to Monday, May 15, 2023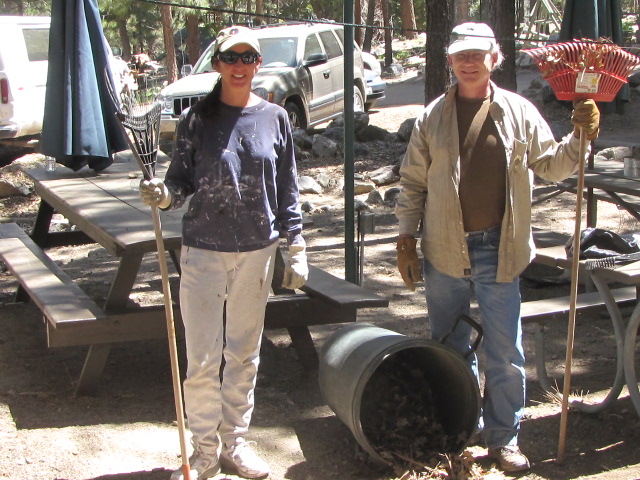 LET'S GET CAMP READY FOR SPRINGTIME RE-OPENING
We've had a last minute change in our camp schedule this spring and we have the rare opportunity to have a WEEKEND Volunteer Work Camp. Usually these camps are held mid-week and so many folks who want to participate can't due to other commitments. So, now's a great time to give back to camp with a little hard work and good fun.
Camp needs able bodies and helping hands to get camp ready to reopen!  We need about 30 volunteers to help with annual fire clearance efforts (aka leaf raking), splitting wood for Lodge fireplace and some staining of cabin rails.
If you are in the mood to help straighten up Camp to make it perfect for the return of the summer camping season, then please come join us.
We have room for 30 energetic and generous, individuals, age 11 and older, who are willing to spend a little "sweat equity" at Camp. We promise you delicious food, comfortable accommodations, and great camaraderie. You'll leave knowing your efforts are appreciated by the staff and will ensure that future campers have a safe and wonder experience at Camp.
COVID UPDATE:  Camp no longer requires proof of vaccination at check-in, however, you will be required to show a negative Rapid Test result upon arrival before mingling with other campers.
Click here to read more about Camp's current COVID policies.
Originally, this volunteer camp wasn't going to start until Saturday afternoon. Now, you can come up on Friday afternoon/evening and stay all the way until Monday, if you want. 
You don't have to come for the whole time — If you need to leave on Sunday, that's okay, too. Just let us know in the registration form when you plan to leave. This information will help us plan chores and meals.
And Sunday, May 14th is Mother's Day. We will honor all the moms who come up to work on Mother's Day!