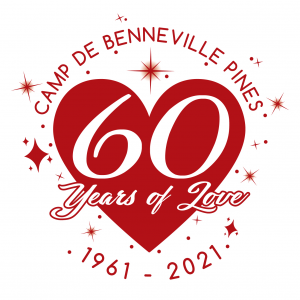 60th Anniversary Celebration
and Annual Business Meeting
Saturday, May 14, 2022
10 AM to 4 PM
Camp de Benneville Pines
Time it was, and what a time it was, it was
A time of innocence, A time of confidences
Long ago, it must be, I have a photograph
Preserve your memories; They're all that's left you
               Simon and Garfunkel, 1968
Come join fellow camp lovers and supporters as we celebrate "60 Years of Love" up on the mountain top. Camp de Benneville Pines has been bringing campers together since 1961. Young and old have good camp memories to share. This one-day event will be filled with camp fun and games, worship and music, singing and dancing. Re-connect with old friends to share memories and take time to create new camp magic!
The day will be filled with all the joy camp has to offer –
worship with Revs. Carolyn and Tom Owen-Towle, music by Scott Roewe
dedication of a new chalice sculpture at amphitheater
tie dyeing t-shirts
family friendly games and activities
face painting
hikes
performance by award winning singer/songwriter Karen Hart
music on Lodge deck by LA Songmakers/Music in the Mountains campers
closing program including president's report, music, singing and memories at the fire circle
Come meet the fire crew who helped save our camp during the 2020 El Dorado Fire. They are our guests of honor.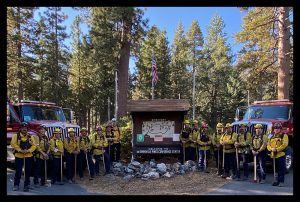 Space is limited to 200 campers and friends so register pronto. Camp staff is happy to serve you an Italian style lunch ($12/adult, $5/child up to 12 years old) or feel free to bring a picnic lunch. Either way, a party reservation is required due to space limitations.  Sorry drop-ins cannot be accommodated due to a myriad of planning details.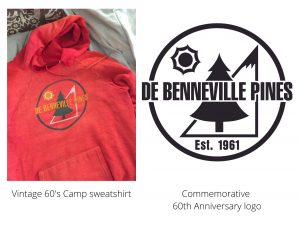 When you register, why not pre-order a commemorative t-shirt? We've researched the archives and found camp's logo from the 60's! T-shirts will be available in white (great for tie-dyeing), yellow and lime green and must be pre-ordered.
The 60th Anniversary Planning Committee, lead by Darlanne Mulmat, is busy organizing the activities planned for this one-day celebration. We promise, there will be too many things to do – or nothing to do – just like camp. Enjoy a concert or sit on the Lodge deck singing songs and chatting with old friends, take a hike to the Fairy Forest or Jenks Lake, get your face painted or tie-dye a t-shirt.
All attendees and volunteers must be fully vaccinated, (and preferably boosted if eligible); proof of vaccination is required prior to arrival at Camp.
Contact Laura Chamberlin, registrar, at registrar@uucamp.org if you have any questions or need assistance with registration.