A camp for families with transgender and gender expansive kids and youth
Friday, September 30 – Sunday, October 2, 2022
Co-Deans: Melinda Blechner and Tanya Wills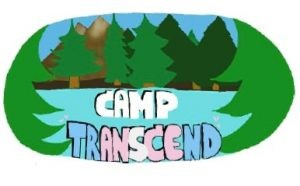 Camp Transcend is a fun-filled weekend of community building for the families of transgender and gender expansive kids, tweens, and teens. Our retreat provides a unique opportunity for parents and children to share their stories with peers while developing a support network. Moderated discussion groups take place in between traditional camp activities such as archery, hiking, and s'mores by the campfire. We also offer a sibling discussion group to help strengthen their understanding of changing family dynamics. On Saturday night, we host a celebration of the wide range of talent among our campers, from stand-up comedy to singing to acrobatics, and conclude with an all-ages dance party.
We are also asking parents to lead at least one activity or workshop. Please indicate your preference on the registration form.
Come join us as we forge new connections and deepen old ones in a gorgeous mountain setting. Each family will be assigned their own room in a cabin with bunk beds. Some double beds are available.
CRAIG'S CABIN WILL BE USED EXCLUSIVELY BY CAMP VOLUNTEER STAFF AND WILL NOT BE AVAILABLE FOR CAMPER ACCOMMODATION OR USE.
Due to Covid protocols, we won't be able to have early arrival Thursday. Please check-in on Friday, September 30th, between noon and 5 pm.
Proof of vaccination will be required prior to arrival at Camp. Additionally, masking is required for all indoor activities except for while a camper is sitting down to eat or drink. Unfortunately, at this time we are only allowing campers fully vaccinated against Covid-19 on our campus.
This event sells out super-fast, so get registered early! As plans and retreat details unfold, more workshop information will be available. If you're interested in leading a workshop, please provide theme/subject while registering and we will contact you with quickly.
Prices includes lodging, all meals, activities, and supplies. A $75 per person non-refundable deposit is required to confirm registration.
Adults/Teens ages 16 and up: $225 per person
Children ages 3 – 15: $150 per person
Toddlers ages 2 and under: $0
To make camp affordable, you can even make monthly payments!
We have set up a GoFundMe account so we can offer scholarships to families who would love to attend but can afford it. If you can help support our scholarship fund, click here to go to GoFundMe.
A full Camper Packet with directions and camp information will be emailed to you approximately 10 days prior to camp start date.
Click here to read more about Camp's current COVID policies.
Questions regarding program: Contact Melinda Blechner, camp co-dean, melindablechner@gmail.com
Questions regarding facilities or the general camp: Contact Janet James, executive director, director@uucamp.org, 909-435-6298
Questions regarding registration, payment arrangements or cabin assignments: Contact Laura Chamberlin, registrar@uucamp.org, 305-389-4755
Register