The original Rainbow Family Camps are twice the fun!
March 27 to 29, 2020 and/or May 15 to 17, 2020
Two weekends designed for LGBTQ families and their friends in mind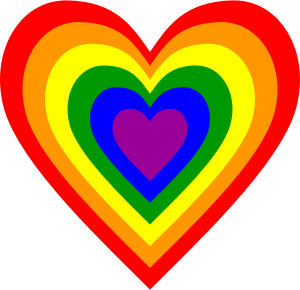 Camp de Benneville Pines is so pleased to be sponsoring these special camps for the 21st year! Come join us for ONE or BOTH exciting fun-filled weekends where families with gay, lesbian, bisexual, and transgender parents/guardians come together to build a better community with other LGBTQ families. Get to know other families just like yours and build lasting connections and friendships!
It's an opportunity to enjoy dozens of family centered activities in a beautiful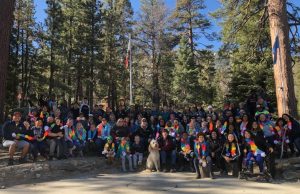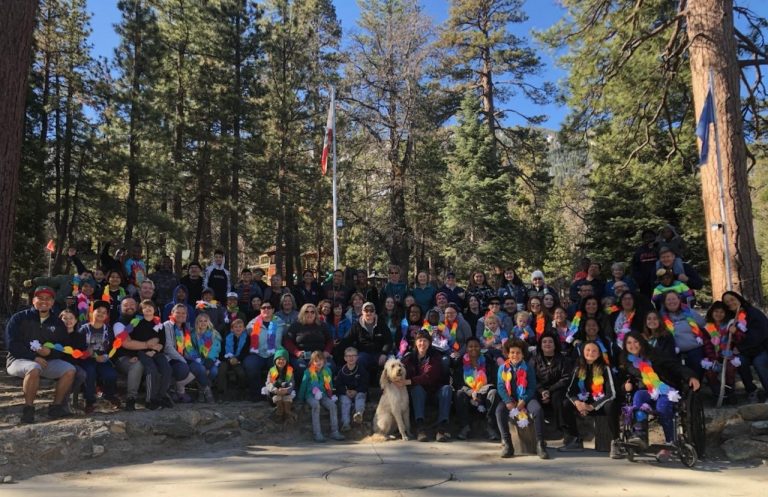 mountain environment and delight in your child's excitement over meeting other children from families "just like yours"! The weekend offers an atmosphere of mutual respect, community, kindness and support.
Rainbow Family Camp #1 begins on Friday, March 27th and ends on Sunday, March 29th, 2020. Long-time Rainbow Camp attendees Shelly and Lynn Siegel again will be the deans for this camp. This camp is SOLD OUT. We are currently accepting registrations for the Waiting List.  Register 
Rainbow Family Camp #2 begins on Friday, May 15th and ends on Sunday, May 19th, 2020. Crystal Czberant and Kristin Lummus will serve as deans for this camp. AS OF 9 AM, 12/15/19,  CRAIG'S CABIN AND CABIN 6 ARE SOLD OUT.Register  
Family-centered activities include: archery, arts & crafts, hiking, movies,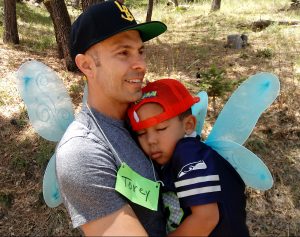 talent show, family dance, parent socials, outdoor activities, indoor games, campfires with s'mores and community meals. There will even be a hike to our Fairy Forest! We also make sure there's both adult time and family time.
We love including new families and hope you will share the magic of camp with them.  Thank you for all of your years of support, friendship and family camping at De Benneville Pines.  Please help us spread the word with as many new families as possible!  With your help and support, we hope to sell out two weekends of Rainbow Fun this season!"
Pricing:
$150 Adults (20 and older)
$120 Teens (13 to 19)
$100 Children (3 to 12)
ages 2 and under FREE!
Upgraded Accommodations:
Cabin 6 or Craig's Cabin: additional $25/adult, children are not charged for upgraded accommodations.
A $75/family non-refundable deposit is required to confirm your registration. Installment payments may be made and all registration fees need to be paid in full no later than one week prior to the beginning of camp.
The Rainbow Family Camps are sponsored by Camp de Benneville Pines and are coordinated and staffed by volunteers and camp supporters. Discounts on registration fees may be given to those who share their talents or offer an activity! 
See you at Camp for family fun! For information about the camp, contact Janet James, Executive Director at 909-794-2928 or email at director@uucamp.org.
To volunteer to be a program leader or host an activity, contact Jill Lummus, Administrator, at admin@uucamp.org. Jill can also  be contacted with any housing or cabin questions.
RAINBOW CAMP #1 — THIS CAMP IS SOLD OUT! NEW REGISTRATIONS WILL BE PLACED ON OUR WAITING LIST.
RAINBOW CAMP #2 –AS OF 9 AM, 12/15/19,  CRAIG'S CABIN AND CABIN 6 ARE SOLD OUT.