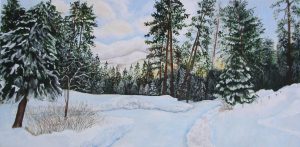 Winter Elementary/Family Camp 2020
Saturday, February 15 – Monday, February 17, 2020
Time Travelers
Deans:  Bill and Shannon Stoker
As of end of day December 1, both Craig's Cabin and Cabin 6 are sold out! 
Camper Packet Part 1          Camper Packet Part 2
In some ways, we are like trees – rooted in the past, with our branches stretching into the future. Come to the mountains to explore how we can learn from our Unitarian Universalist past, live out our UU principles in the present, and create a better future for humanity.  Be a time traveler–of sorts–as we discover our UU past-present-future together at winter camp.
For many folks the term time travel often summons our most fantastic visions of what it means to move through the fourth dimension. But of course, you don't need a time machine or a fancy wormhole to jaunt through the years. Join us February 15 – 17 for a camp filled with snow play, indoor games, crafts, and kid-focused worship.  Learn about what stories trees have to tell about the past, and envision a future that embodies our UU principles, all in the midst of our forest home-away-from-home.
At Elementary/Family Camp we will have activities for all ages that take place inside and out, and kids and families will have plenty of time to socialize. There will even be a dedicated project space in the lodge where campers can unleash their creative side in between workshops. Sledding, snow play, and other winter activities are all hi-lights on this wonderful weekend of winter time fun. Take some time to experience the beauty of the winter forest and share a cup of hot chocolate with friends old and new at the toasty lodge fireplace.
Designed for kids in elementary school, campers in grades 2 to 6 can come to camp on their own and stay in cabins with well-trained and talented counselors or come with their families and stay in a family room.  Younger siblings (grades K-1) are invited along for the fun but must stay with their parents in family cabins. The littlest of siblings are welcome at activities but must always be accompanied by parents throughout the day.
Camp de Benneville Pines has cozy cabins, warm showers and hot food just waiting for you!  Cabins are set up dormitory style and each family is given their own room.  Bathrooms are located inside of each cabin, and several families will be housed in each cabin.  Counselor cabins will accommodate kids in rooms with similar age/grade.
Pricing: 
Adults: $150 per person
Children — Grades K – 6: $150 per person
Youth — Grades 7-12: $150 per person
Children — 3 years – Pre-K: $90 per person
Children — Infant – 2 years: No charge
Don't miss the fun, reserve your space today!
As of end of day December 1, both Craig's Cabin and Cabin 6 are sold out!