Camp Interconnections: A Call for Action on Climate Change!
Sunday, July 14 – Saturday, July 20, 2019
Deans: Kathleen Moscato and
Marianne Swift-Gifford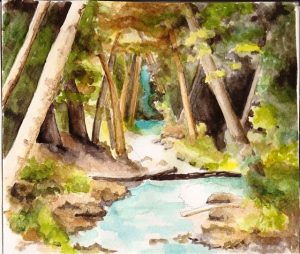 All life is interconnected. From the forest to the sea to humanity itself, each thread of being is woven into a single fabric of existence. We embrace nature's beauty and are in awe of its power. We care for our environment so that it may sustain life for generations to come. We do this in partnership with those most impacted by environmental destruction, who are often marginalized in the larger culture. Creating a sustainable way of life is central to our view of a just and compassionate world. Our work must be intersectional for which climate action is an integral part.
Register          Scholarship Application          Camper Profile
Click here for 2019 Middle School Camper Packet
Explore all that Camp de Benneville Pines has to offer at Middle School Summer Camp: Interconnections, a week-long camp, July 14th to 20th! Come build community by getting out in nature, playing team building games, dancing, relaxing, swimming, unwinding and creating arts and crafts. Campers will explore, challenge themselves, collaborate with others, and discover in a fun and safe environment. We invite campers to come and experience the joys of nature at Camp de Benneville Pines while learning how we can care for our environment and ourselves in a sustainable way!
This camp is designed for campers completing 6th – 8th grades.
Cost: $650
Early Bird Discount: Save $75 if registered by May 15, 2019
As of June 16, 2019,male camper bunks are sold out. Any male camper registering after that date will be place on our Waiting List.
There are still female camper bunks available so register NOW before those bunks are also sold out!
Submit registration with a $75 non-refundable deposit, full balance due one week before start of camp. No refunds will be allowed after Check-in begins on first day of camp.
For general information, contact Janet James, Executive Director, director@uucamp.org or call (909) 435-6298.
For information on Middle School Summer Camp 2019, contact Geoff Anderla, Camping Ministries Director, cmd@uucamp.org or call (623) 252-5619.
For information on registration, contact Laura Chamberlin, Registrar, registrar@uucamp.org or call (909) 794-2928.