CAMP UUNDERWATER!
Sunday, July 21 – Saturday, July 27, 2019
Youth Deans: Charlie Mara and Chloe Wall
Adult Dean: Rev. Matthew Funke Crary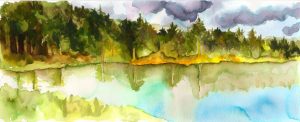 Come experience a dynamic summer week with a community of 100 peers at Camp UUnderwater! Spend a week bonding, learning, making friends, and participating in fun and thought-provoking activities at a cozy spot in the woods—de Benneville Pines.
AS OF MARCH 18TH, THIS CAMP IS SOLD OUT!! ANYONE REGISTERING AFTER THIS DATE WILL AUTOMATICALLY BE PLACED ON THE WAITING LIST.
Scholarship Application          Apply for Staff          Camper Profile          Camper Packet
During the week, campers will have the opportunity to participate in creative and varied activities such as a walk to Jenks Lake where they can canoe and kayak. Campers can enjoy arts and crafts, improve skills at the archery range, and learn how to build a strong covenanting community. This summer's line up of workshops will include professionally led talks on developing coping mechanisms and dealing with mental health issues.
At Camp UUnderwater! campers will dive into themes of mental health and the challenges some face, working on how to stay afloat even when it feels like we're drowning. To be able to support one another through life's ups and downs, and to learn how to recognize the warning signs to depression and mental decline may help us advert a crisis. Emotions will be explored, and deep connections and friendships will develop.
Navigating rough waters can be scary and isolating and our loving community will help to calm the waves and be the light house to guide you home. Join us for a summer week with all the traditional camp activities and learn how to keep your head above water!
This camp is designed for campers completing 9th – 12th grades.
Cost: $650
Early Bird Discount: Save $75 if registered by May 15, 2019
Submit registration with a $75 non-refundable deposit, full balance due one week before start of camp. No refunds will be allowed after Check-in begins on first day of camp.
Gender Inclusive Housing Policy: Camp de Benneville Pines believes it is important that housing practices evolve to meet the needs of campers and to continue to create an inclusive, nurturing environment. It is our goal to provide an affirming, safe, and non-discriminatory camping experience that is welcoming to all gender identities, both transgender and cisgender identities.
Camp de Benneville Pines offers a Gender Inclusive Cabin option to campers who demonstrate a need for or an interest in such accommodation. We have a limited number of beds available and camp staff will make cabin assignments based on need.
Campers under the age of 18 must have provided written consent from a parent/guardian before being assigned to the Gender Inclusive Cabin and we encourage all campers to maintain an open dialogue with their parents/guardians.
For general information, contact Janet James, Executive Director, director@uucamp.org or call (909) 435-6298.
For information on Senior High Summer Camp 2019, contact Geoff Anderla, Camping Ministries Director, cmd@uucamp.org or call (623) 252-5619.
For information on registration, contact Laura Chamberlin, Registrar, registrar@uucamp.org or call (909) 794-2928.
Scholarship Application          Apply for Staff          Camper Profile          Camper Packet