Camp UUnite
Sunday, July 19 – Saturday 25, 2020
Youth Deans – Alex Bates Lamparella & Charlotte Ulrich
Adult Dean – Rev. Matthew Funke Crary
Register          Camper Profile           Scholarship Application          Youth Staff Application
AS OF 3/10/20, THIS CAMP IS SOLD OUT. NEW REGISTRATIONS WILL AUTOMATICALLY BE PLACED ON THE WAITING LIST. CAMPERS/PARENTS WILL BE INFORMED IF AND WHEN SPACES OPEN UP.
Come to UUnite this summer under the sun and pines to discover what truly brings UU youth together. The week will be spent diving deeper each day into what UU principles mean, and more specifically, why they matter, and how they are acted upon. UU teens have learned that principles aren't simple proclamations a minister can make, as often the experience is the tail end of congregations falling short on commitments to these principles. Camp UUnite will offer more spiritual expression than ever with singing, laughing, and UUniting for the greatest good with the best group of folks imaginable.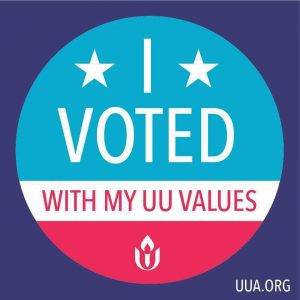 Through these seven days, Camp will look completely different than in the past! Your deans have experienced life as campers, staff, counselors, and just about everything in between. In those positions, they've seen and experienced the hurt that is held when tradition is prioritized over the greatest good of the community. This means shaking up the schedule and staffing positions. The favorite activities of Jenks Lake canoeing, powerful worship, and life-changing workshops and trainings will continue with a shift of their foundation. Programming will be justice and social activism heavy, with the goal of shifting the all too common white-supremacist and white savior mindsets that accompany UU history as a local community and beyond. With these difficult conversations, the support system will consist of the UU seven principles and learning how to extend the kindness within these principles to one another, to cope, and to grow. There is work to be done. Will you answer the call?
Cost: $675
Early Bird Discount: Save $75 if registered by May 31, 2020.
AS OF 3/2/20, ALL SPACES IN THE ALL MALE CABINS HAVE BEEN ASSIGNED. NEW REGISTRATIONS WILL BE PLACED ON THE WAITING LIST. CAMPERS/PARENTS WILL BE INFORMED IF AND WHEN SPACES OPEN UP.
AS OF 3/2/20, ALL SPACES IN THE GENDER NEUTRAL CABIN HAVE BEEN ASSIGNED. WE ARE NO LONGER ACCEPTING REGISTRATIONS FOR THIS CABIN.
Register          Camper Profile           Scholarship Application          Youth Staff Application
Submit registration with a $75/person non-refundable deposit, full balance due one week before start of camp. No refunds will be allowed after Check-in begins on first day of camp.
For general information, contact Janet James, Executive Director, director@uucamp.org or call (909) 435-6298.
For information on 2020 UU Senior High Summer Camp, contact Marianne Swift-Gifford, Camping Ministries Director, cm@uucamp.org or call (909) 287-1270.
For information on registration, contact Laura Chamberlin, Registrar, registrar@uucamp.org or call (909) 794-2928.