Camp Connections
Wednesday, July 14th to Friday, July 16, 2021 | 4:00 – 5:30 p.m. each day
Dean: Kathleen Moscato
Dean-in-Training: Patrick Daley
For virtual campers who have completed 6th to 8th grades
We are excited to offer Camp Connections once again through a virtual platform this summer. We can't imagine going through summer without seeing all of your wonderful faces and hearing all about what you've been up to this past year.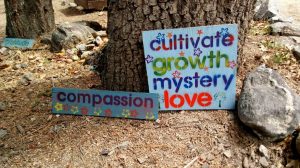 While we are anticipating next year's camp will be in person again (YAY!), we at camp want you to know that our connection to one another and to our beloved camp is a priority! We are offering this camp free of charge and it's open to all young people who have completed 6th through 8th grade at the time of camp.
We're still working on finalizing the schedule but you can look forward to joining Junior High Camp Deans, Kathy Moscato and Patrick Daley, to make camp connections with new and old friends and have some fUUn! While this is not a full week of camp, we will pack in our fUUn in a few sessions during the week. Here are some of the fUUn activities and events we're working on:
Icebreakers and Games
Camp Songs and Campfire
Scavenger Hunts
Stretching and Movement Activities
Crafts, Poetry and Worship
Social Justice and Small Group Discussions
Variety Show/Open Mic
Acknowledging our Bridging 8th graders to Senior High Camp
Please contact our Camping Ministries Director, Marianne Swift-Gifford, if you have any questions or need additional information. Marianne can be reached via email at cm@uucamp.org or via call or text at (909) 287-1270.