Camp Connections
Wednesday, July 21 to Friday, July 23, 2021 | 6:00 – 9:00 p.m. each day
Dean: Gregory C. Carrow-Boyd, CRE-ML
For virtual campers who have completed 9th to 12th grades
We are excited to offer Camp Connections once again through a virtual platform this summer. We can't imagine going through summer without seeing all of your wonderful faces and hearing all about what you've been up to this past year.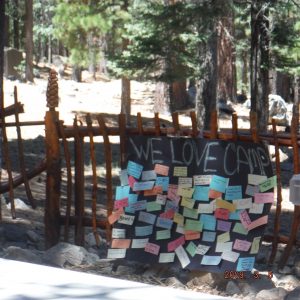 While we are anticipating next year's camp will be in person again (YAY!), we at camp want you to know that our connection to one another and to our beloved camp is a priority! We are offering this camp free of charge and it's open to all young people who have completed 9th through 12th grade at the time of camp.
Senior High Summer Camp will be an interactive three-day camp that meets in the evenings of Wednesday thru Friday, July 21st to 23rd. Youth will provide workshops with the support and guidance of adult advisors. Each evening of camp will begin and end with a worshipful centering. The final cyber dance party and worship service on Friday is sure to excite!
While this is not a full week of camp, we will gather for meaningful connections and fun during a few sessions during the week.  The adult advisors and the Dean will be working with all interested youth leaders ahead of camp to create a schedule of possible workshops.  In the registration process, campers are able to submit the workshop and activity ideas that they would like to lead! We will also be acknowledging our Bridging 12th graders to emerging adults.
Please contact our Camping Ministries Director, Marianne Swift-Gifford, if you have any questions or need additional information. Marianne can be reached via email at cm@uucamp.org or via call or text at (909) 287-1270.