UU Junior High Summer Camp
"Recapture the Love for Camp"
Sunday, July 10 – Saturday, July 16, 2022
Dean: Patrick Daley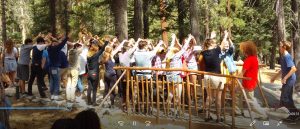 Registration is open!
We hope you can join us this summer as we reopen the magical grounds of Camp de Benneville Pines! This summer we will allow camp to remind us of the power in fellowship, community, belonging, acceptance, and togetherness. Camp has been closed to many of us for so long and we now can experience its glory, in person, once again. Whether you are a returning camper or new to camp, this is a place for you to bring your authentic self and fall in love with our mountain sanctuary.
At Junior High Summer camp, we will bring back the programs that help build individual confidence, personal and religious identity, and friendship bonds that cross generations and last into the high school years and beyond. We will enjoy meals together, discover ourselves in the freedom of self-expression that camp promotes and cultivate a community of love and Unitarian Universalist principles.
Campers are encouraged to bring back the joy of participating in our favorite activities: ping pong, movie night, small discussion groups, archery, our dance party, team building, ice breaker games, sharing/creating music, arts, and crafts/tie dying, Open Mic Night and more!
Come "Recapture the Love for Camp" together this summer and get away into the beautiful mountains of Southern California while continuing our UU journey at Junior High Summer Camp.
This camp is designed for campers completing 6th-8th grades.
"Those moments we missed
Are now these moments we make,
The moments we meet,
And our hearts, once altogether beaten,
Now all together beat."
-Passage from Amanda Gorman's Poem, "New Day Lyric"
ATTENTION FAMILIES OF CAMPERS COMPLETING 6TH GRADE 2022 SCHOOL YEAR:
The sixth grade is a critical time in a child's development because it is a time of physical and emotional transition from childhood to adolescence. The real answer to where a sixth grader belongs at camp depends on the particular sixth grader. There are some children who would be happier at Jr High camp because they are developmentally ready to be with older campers who are completing 6th through 8th grades by this summer. Other sixth graders may need the security of the younger crowd at elementary camp with campers who have completed 2nd through 5th grade.
Parents/Guardians, YOU HAVE A CHOICE! You know your camper completing 6th grade better than anyone. Please carefully consider their overall readiness for camp and register them in the one camp that your family feels would best suit their overall needs. Campers completing 6th grade by this July 2022 will have the option of registering for EITHER Elementary Camp (7/3-7/9) OR Jr. High Camp (7/10-7/16). We at camp want all campers to have the best time possible!
If you would like to discuss this option with the Camping Ministries Director, please email Marianne Swift-Gifford at cm@uucamp.org or call at 909-287-1270
Pricing includes lodging, all meals, activities, supplies and trained youth and adult counselors. A $75 per person non-refundable deposit is required to confirm registration. Full balance due one week before the start of camp. No refunds will be allowed after Check-in begins on the first day of camp.
Click here to read more about Camp's current COVID policies.
Price: $699 and you can make automatic monthly payments!
Early Bird Discount: Save $50 if registered by May 31, 2022.
For general information, contact Janet James, Executive Director, director@uucamp.org or call (909) 435-6298.
For information on 2022 UU Junior High School Summer Camp, contact Marianne Swift-Gifford, Camping Ministries Director, cm@uucamp.org or call (909) 287-1270.
For information on registration, contact Laura Chamberlin, Registrar, registrar@uucamp.org or call (305) 389-4755