UU Senior High Summer Camp
"Camp BeaUUty"
Sunday, July 17- Saturday, July 23, 2022
Youth Deans: Lee Blythe and Ryley Swift
Adult Dean: Gregory C. Carrow-Boyd, MEd
PLEASE READ THIS IMPORTANT REGISTRATION INFORMATION! 
Attention Senior High Campers and Families,
We will have reduced capacity at camp due to the ongoing COVID-19 pandemic. We are especially mindful of the impact that has had on the outgoing seniors from those two summers. To address this issue, we will be prioritizing camper registration in this order: 12th, 11th, 10th, 9th. 
What will the Sr. High Summer Camp Registration process be?
All campers interested in attending Sr. High Summer Camp will complete the much shorter waitlist registration interest form online. There is no deposit required to sign up for the waitlist. no deposit required at this stage of the process). All campers will be placed on the waitlist at the start of this process.
The waitlist registration interest form will open on April 2, 2022 at 10:00 PM PT and close on April 15, 2022  To attend this year's Sr. High Summer Camp, you must complete the waitlist registration process by April 15, 2022 at 11:59 PM PT.
After April 15, 2022, Sr. High Summer Camp leadership (youth deans, adult dean, and Camping Ministries Director) will determine which waitlisted campers will be invited to summer camp based on the following factors:
Grade prioritization (beginning with campers who have completed 12th)

Beds available

Staffing availability to maintain exceptional adult-to-camper ratio

Sr. High Summer Camp leadership will inform you/your if you have been accepted to attend camp this summer season by April 30, 2022.
Sr. High Summer Camp leadership will send you a link to complete the official registration process and pay the registration deposit on May 1, 2022.
If we are able to add more bed availability, we will notify waitlisted campers weekly until July 1, 2022. You must complete the official registration within one week from notification to retain your spot.
NOTE: In order to maintain the highest level of COVID protocols, Sr. High Summer Camp will require PCR testing at midweek. Parents/guardians of minors will need to consent to this test. All campers and staff must participate in this testing to remain at camp.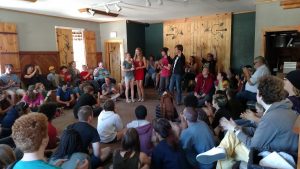 Would you like to make the week at camp more enjoyable for other campers? Then apply for Sr. High Summer Camp Youth Staff! We would love to hear why you would be great in any of the roles. More information and the application are available:
Come to Camp BeaUUty this summer under the sun and pines to discover what truly brings Unitarian Universalist youth together. The social construct of "traditional beauty" standards is full of it. Beauty myths are fueled by the media and what they choose to portray on screen and in photos. We invite you to a camp where we will explore how we can do our part to erase the unrealistic standards placed on people and rid ourselves of unintentional personal prejudices based on looks. Welcome to Camp BeaUUty: Love Yourself and Others.
Camp BeaUUty will include powerful worship, themed workshops, leadership trainings, a camp service project, and time to soak in the beauty of nature, as well. As we create a welcoming space for all, be a part of Senior High's traditional camp favorite activities: ice cream social, auction, variety show, arts and crafts, ping pong, archery, star gazing, Night Crossing, hiking to Jenks Lake, the amazing end of the week dance, making friends for a lifetime, and more!
This camp is designed for campers completing 9th – 12th grades.
For general information, contact Janet James, Executive Director, director@uucamp.org or call (909) 435-6298.
For information on 2022 UU Senior High School Summer Camp, contact Marianne Swift-Gifford, Camping Ministries Director, cm@uucamp.org or call (909) 287-1270.
For information on registration, contact Laura Chamberlin, Registrar, registrar@uucamp.org or call (305) 389-4755.