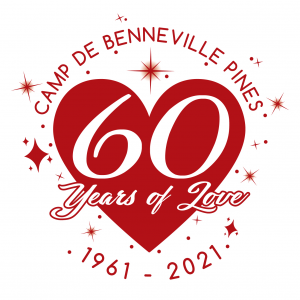 Camp de Benneville Pines
"60 Years of Love"
2021 marks the 60th anniversary of Camp de Benneville Pines serving the people of the Pacific Southwest District of the UUA, the congregations in this district and a multitude of other camper groups. Over this period of time, generations of campers have forged lifelong friendships, felt their families being nurtured by nature and had their spirits restored. Camp is truly our spiritual home in the mountains.
Hearts are yearning to end this prolonged period of separation from their mountain top home and the wait is almost over! Camp will reopen this fall with some limitations — occupancy will be reduced and all participants must provide proof of Covid-19 vaccination. It will be so wonderful to again hear the happy sounds of folks gathering and playing together. 
Camp without campers has been a very lonely place. And financially, camp is not out of the woods yet. The financial loss incurred due to no in-person registration fees since March 2020 and the expenses to safeguard camp from the damage done by last summer's El Dorado Fire have severely drained camp's coffers.
We will be initiating several fundraising campaigns over the coming months to celebrate Camp's 60th Anniversary and support our beloved mountain top home. Please help camp not only survive this difficult time but help it thrive for current and future generations.
Camp de Benneville Pines is a 501(c)(3) nonprofit organization.